Cornwall offers a veritable feast for the camper. Whether you are under canvas or enjoying the delights of this rugged county from the confines of your campervan, there is something here for everyone. F
rom the history buff to the wildlife enthusiast to the lover of the great outdoors Cornwall has a treasure trove of delights for you that may fool you into thinking you're camping on the continent.
Here, we offer a few ideas to get you going.
Meander around the quaint narrow lanes of Port Isaac
Port Isaac is a small fishing village that looks out to the formidable vastness that is the Celtic Sea.
You'll recognise many of the larger buildings here along with the steep lanes from the popular TV series starring Martin Clunes as Doc Martin is filmed here, although the village itself takes on a fictional front itself as Port Wenn.
Aside from being star-struck, you'll also find this the place to sample the local catch.
Outlaw's Fish Kitchen offers one of the best menus with dishes made from the local catch of the day.
If you are a big fan of the show, why not join one of the many Doc Martin Filming Tours?
Time it right, and you could watch a scene or two being filmed
Enjoy the drama of St. Michael's Mount
Delve into Cornish history from across the centuries with a visit to the small tidal island of St. Michael's Mount.
Dramatic architecture is accentuated by the fact that this beautiful building sits seamlessly into the rock.
Access to the island over a manmade granite causeway is free, but there is a charge to enter the castle.
Well worth a visit and certainly a very Instagrammable backdrop if ever there was one.
Chill and surf at Watergate Bay
If there is one thing that Cornwall is famous for, it is the rolling surf.
Attracting newbies and old hands alike, spending a week or two surfing in Cornwall is the ideal way to chill, leaving the frantic pace of everyday life behind.
Watergate Bay is north of the popular village of Porth and Porth Beach but is no less picturesque.
Hit the surf or indulge yourself in one-to-one surfing lesson before you head back to your carefully-chosen tent, sun-soaked and soporific after a day at the beach.
A beautiful, bustling town, St. Ives is most definitely on the tourist trail, but that doesn't mean it should be avoided on your camping trip to Cornwall.
It has an almost tropical feel to this small, thriving town, accentuated by the expanse of sandy beach as well as the surfing on offer here.
If you need a break from all that sand, there are museums to visit here – take a walk into the past ad Cornish pottery, for example – as well as try your hand to throw a pot at The Leach Pottery.
The high street is full of small, independent shops, perfect for when you need a retail fix.
After taking a look around the centre of town, head back to the seaside to sample some of the finest cuisines in the many cafes and bistros close or on the seafront.
There are also amazing workshops on offer here too, which lets you create a bespoke souvenir of your camping trip to Cornwall.
At St. Ives Jewellery Studio you can hammer out your very own sterling silver ring in one of its popular workshops.
Feel the romance of the setting sun at Land's End
As the name suggests, this is where the land gives way to the sea and is a place that tourists have been flocking to for over 300 years.
Watching the sunset here on a balmy summer's evening is a divine way of ending another day spent in beautiful Cornwall.
In August, there is also a twice-weekly firework display called 'Magic of the Skies', complete with recorded narration by Miriam Margoles and music by British composer Christopher Bond.
It is often visited by adventure-seeking cyclists en route to John O'Groats, Northern Scotland.
If you are a fan of stunning landscapes, this destination offers quite a view of the Atlantic and Longships Lighthouse.
Standing on a 200-foot high granite cliff allows the distant Isles of Scilly to be visible.
In all, visitors enjoy soaking in the scenery and partaking in various events held at Land's End.
Enjoy the delights of the city of Truro
The only city in Cornwall, Truro shouldn't be left off your list. Sitting at the head of the River Truro as it makes its way to the sea, this is the ideal place to pick up the camping supplies you'll invariably need.
There is, as you would expect, plenty to do here. As well as shopping – you'll find independent detailers rubbing shoulders alongside established high street brands – you could also…
Picnic in Victoria Gardens – well looked after by the local city council, you'll find hanging baskets and tended flowerbeds make for a colourful backdrop to a lazy afternoon picnicking on the vast green lawns. There is a children's play area too, as well as a bandstand concerts most Sunday afternoons throughout the summer months until September.
Visit the Royal Cornwall Museum – for the wildlife and history buff; this is a must-visit. If you feel the thirst for something other than surf and shopping, then this is the ideal way to while away a few hours. As well as local exhibits, there are collections from across the globe.
Truro Cathedral – like most places of Christian worship in the UK, the cool, serene ambience of Truro Cathedral is a welcome respite from a hot day. However, it is also a beautiful building in its own right and a place more than worth a visit. There is a reasonably-priced car park near-by if you travelling by car or camper.
It goes without saying that there are some brilliant places to eat in Truro too. As well as high street chains, you'll also find independent cafes and restaurants tucked away along quaint side streets – all great if you don't fancy cooking when you get back to camp.
Get your walking boots on for the South West Coast Path
Leave the hubbub of cities and towns behind by walking a section of the South West Coast Path along the Hartland Heritage Coast.
Often a forgotten part of Cornwall, it borders with Devon and is a delightful place to spend a day or two.
There are a range of paths here and something for all abilities, from gentle meandering strolls, perfect for warm evenings before you retire to your campsite, to bracing day-long walks that take in several miles of this stunning coastline.
Ranging over 630 miles, the multiple terrains at South West Coast Path will cater to all visitors regardless of fitness levels.
Better still is that there are some lovely pubs along many of the walks, ideal for lunch along the way or a hearty dinner after a day of fresh air and walking.
So with plenty of options, take your pick and start exploring!
Wherever you camp in Cornwall, there is something delightful ready for you to explore on your doorstep.
Padstow in north Cornwall is incredibly pretty. Choose from seven sandy beaches, all of which are less than five minutes from the centre of town.
If you do nothing more than pass through here, you need to stop long enough to sample the fish and chips on offer here.
There are various cafes to choose from, one of which is Stein's Fish & Chips.
Worth every penny and an ideal camping base too.
Explore the ruins of Tintagel Castle
Tintagel Castle can be found just south of Boscastle and is undeniably stunning.
Modern-day archaeologists are still interested in the site, and it doesn't disappoint.
Slowly, the castle and the surrounding land is giving up the secrets of civilisations past, something you can explore for yourself.
The scenery is stunning, which are magnified by the myths that swirl in the air around the castle.
The legend of King Arthur is strong here, which has fuelled the imaginations of writers and artists for years.
Dramatic it certainly is.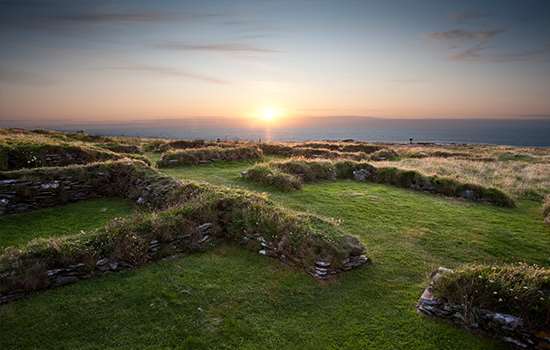 Immerse yourself in 500+ years of history with a timed ticket.
The National Trust introduced these tickets to protect the ecology and archaeology of the area but also gives you unhurried time on the bridge that you must cross to reach the tiny island that sits within a whisker of the mainland.
You'll need to book in advance although there are a small number of walk-up tickets released daily, but you are not guaranteed entry.
Furthermore, this attraction at Cornwall treats its visitors to a picturesque view of the Celtic Sea, which is indeed a view fit for a king.
There is no shortage of rugged coastline in Cornwall, but arguably one of the best is Kynance Cove.
You'll find this beach with large rock formations to the west of Lizard.
Many people list this place as the top beach in the UK, and it really is no wonder.
Azure blue, crystal clear water invites you to swim in the many pools here, including one called Mermaid's Pool.
Accessible during low tides, the local legend is that on the table rock located at this pool, you'll find Mermaids on warm, sunny days, enjoy the sun, peace and quiet…
HINT – this is a beautiful area and well worth spending the day swimming and enjoying the beach but like many coves and crags along the coast, you need to listen to local advice as to when is the best time to go and when you should stay away.
In particular, know the tide times for the day and keep an eye on the time too.
There are many reasons why camping in Cornwall is so popular, but one is that life seems to slow down to a snail's pace, a delightful change from the fast pace of modern life. Pottering in Polperro is a great way to start this process of unwinding on your trip.
A small coastal village it may be, but there is plenty to explore here. The Polperro Heritage Museum of Smuggling & Fishing tells the long story of this village and how it was built on a double economy of sea fishing and smuggling.
When you've had your fill here, bob along to the Polperro Model Village Land of Legend and Model Railway. Great for adults and kids alike, this local attraction is a fun way of learning the history of this part of the Cornish coastline.
And don't forget the South West Coast path either, as there are some fantastic walking sections here.
Meander around the Eden Project
It could be argued that no visit to Cornwall would be complete without a visit to The Eden Project.
The giant glass dome of the Eden project is now as synonymous with Cornwall as its rugged coastline.
For gardeners, this is paradise, but for non-gardeners, it is just as inspiring a place.
Stacked full of exotic plants, there is a veritable wealth of information on not just the project itself but how we can make changes that help to save the environment.
The only drawback is the cost of entry which some campers, especially campers, can find off-putting.
That said, people who have visited here have said it was worth every penny.
We suggest spending the day here and making the most of every opportunity on offer from learning how to make your own compost to sitting and enjoying the heady scents of the dome.
There are many harbour villages and towns in Cornwall, as you would expect, but with a history of boat building dating back to 1745 (and possibly further) the quaint seaside village of Mevagissey is a place worth lingering.
It is also the perfect place from which to explore the surrounding area, including The Lost Gardens of Heligan.
Stretching for over 200 acres, there is mystery, romance and drama here, as well as beautifully landscaped gardens that give you a chance to experience its tranquil calmness.
As well as the gardens, there are educational workshops, some aimed at children and family learning.
And, if you get peckish, there's also a kitchen and bakery for when you need to refuel before heading back to camp.
Known for its rich geology, Bodmin Moor's medieval and prehistoric remains are shown through its rock formations.
Its wide plains are decorated with sizeable rock formations which juxtapose the lower marshlands that drain into moorland valleys.
This beautiful location is the main source of rivers in Cornwall.
The highest peak in Bodmin Moor is 1,378 feet above sea level, and it is comically named "Brown Willy". Rumour has it that the summit contains a cairn that is the burial site of an ancient Cornish king. Trek to Brown Willy and treat yourself to an amazing view of granite boulders littering the moorlands.
Overall, this location welcomes hikers or families as they can select either the longer routes or easier ones.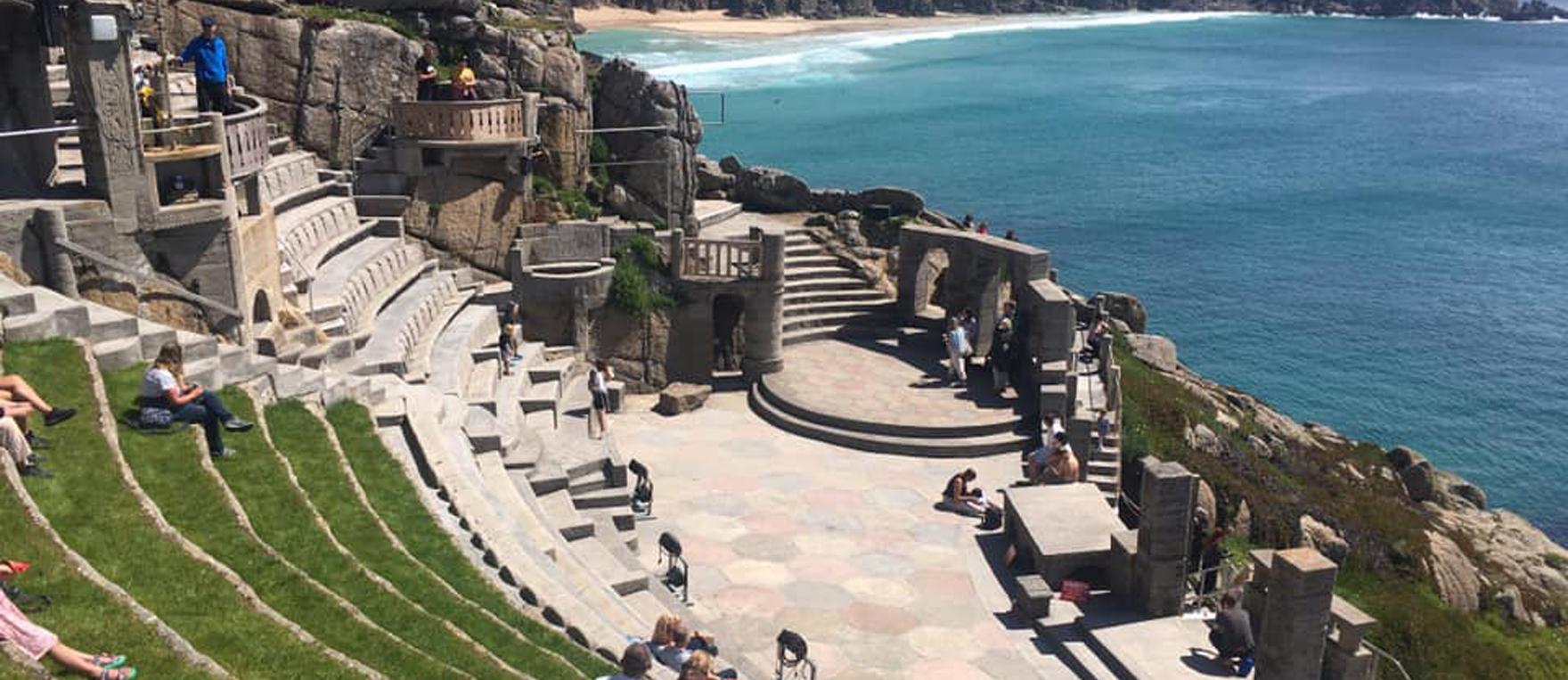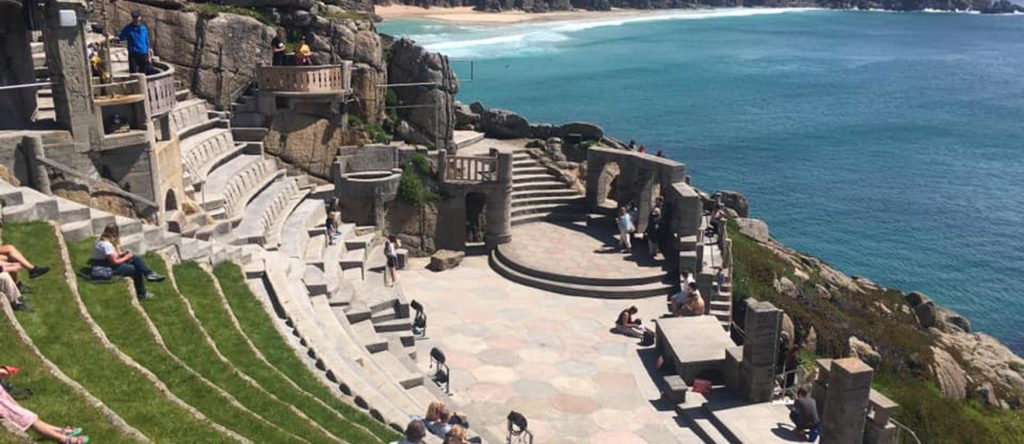 Known as one of the world's oldest outdoor theatres, the Minack Theatre was established in the 1930s.
The theatre has been advancing in tandem with technology and is equipped professionally today.
Over the years, several amateur and professional performances have been held in this theatre.
Apart from enjoying the performances, visitors can admire the charming sea view which acts as a backdrop.
However, do note that there will be no stage performances held during winter due to its outdoor nature.
Lanhydrock is located in southern Bodmin.
First built during the Jacobean period, the civil parish radiates Victorian aesthetics.
Its interior consists of Begonia and Aspidistra; plants that were common during the Victorian era.
This attraction is known for its spacious interior with 50 rooms, surrounded by lush greenery.
The house was once occupied by generations of the Robartes family and had been refurbished after a fire in 1881.
Explore this building to catch a glimpse of the luxurious aristocratic lifestyle, consisting of chambers, nurseries, and servant's quarters.
Housed within two acres of abandoned buildings in Pendeen, the Geevor Tin Mine Museum is one of the largest preserved mines in the UK.
The museum consists of a variety of artefacts and exhibitions about Cornwall's rich history in mining.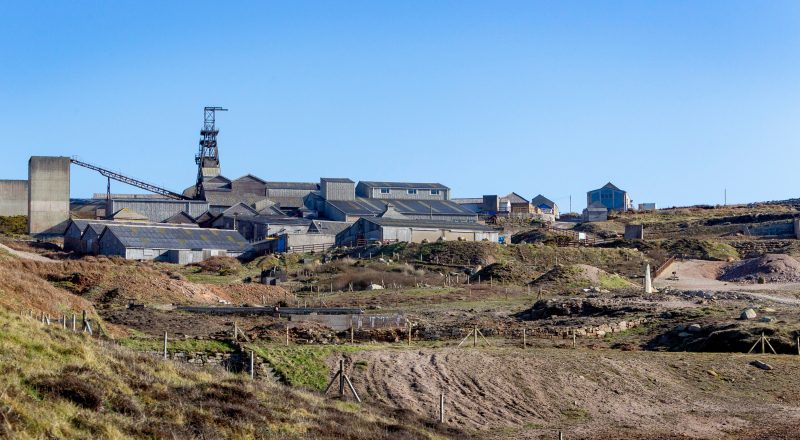 As the museum tours are suitable for all ages, each visitor will be able to find their place and take home new knowledge at the end of the day.
The Lost Gardens of Heligan
The Lost Gardens of Heligan was rediscovered in 1992, with overgrowth crowding the Victorian garden.
This attraction has since been restored and visitors are warmly welcomed to appreciate its splendid beauty.
Take a stroll across the 200 years old Victorian paths and view plant species that can be found globally, coupled with banana and bamboo plantations.
Depending on your chosen path, you might even see the famous 'sleeping woman' horticulture.
At the end of the day, you might consider visiting the teashop or purchase a plant to call your own.
So much to do… where will you start?
Cornwall has a colourful history and is as vibrant and bustling today as it was centuries ago. Romance and drama hide at every turn.
From high-octane activities such as coasteering and surfing to tranquil days spent meandering through gardens or along the coastal path, to vibrant town centres, there is something for everyone here.
It may be a cliché but the only trouble you'll have when you come to Cornwall on a camping trip is where to start…
Check out these other great articles about Cornwall, from places to stay to places to visit.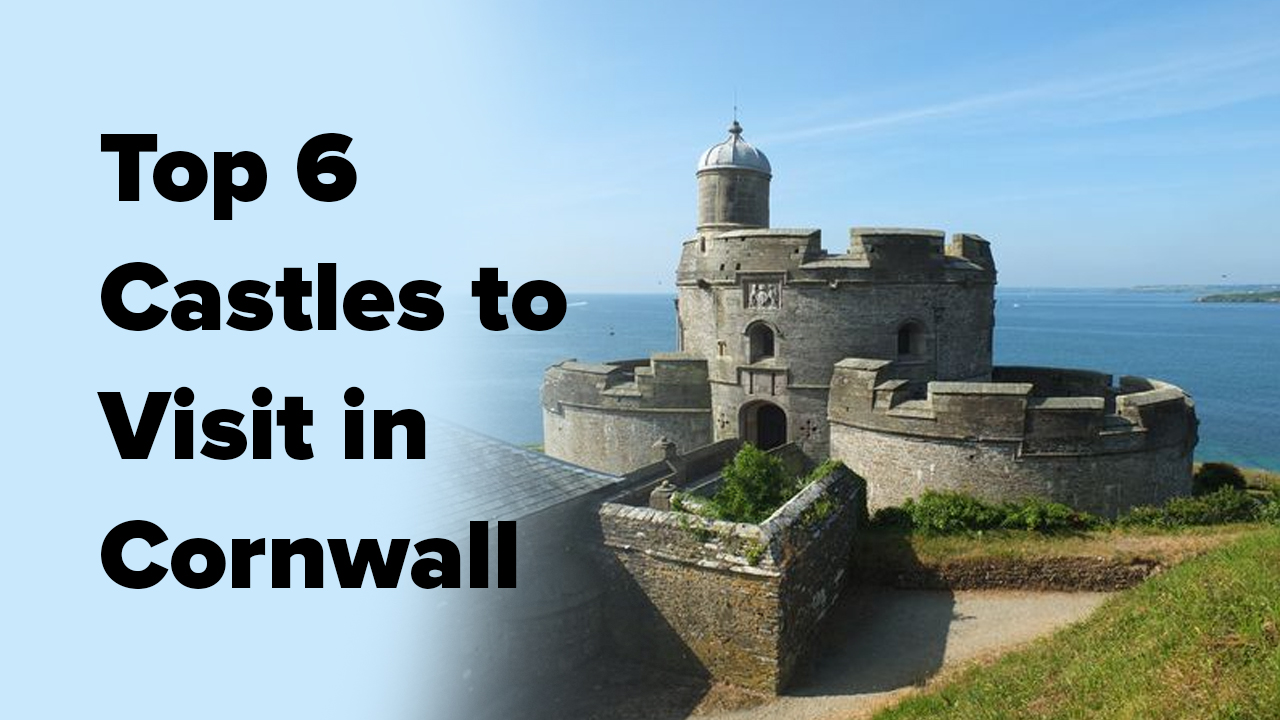 Cornwall is known for its spectacular coastline, tall cliffs, and wide sandy beaches. But beneath the magnificent nature is a deep layer of history, told ...