The world is becoming both further removed, and more connected with, our natural surroundings and what it means to truly enjoy what's on our doorstep.
On the one hand, the increase in so-called "staycations" has seen a vast surge in the number of family groups looking for camping holidays in the UK, ranging from popular holiday sites and local attractions to far-flung coastal and countryside retreats.
On the other hand, our use of technology is such that no holiday today is complete without full access to Wifi, gaming opportunities whenever we get bored, and a series of photos which capture and allow us to share the entire trip with our social platforms.
Finding a happy medium is the pinch point of every family holiday – how can you possibly go about sourcing, booking, and enjoying the perfect family holiday where the experience as a whole leads to five star reviews from adults and kids alike?
This blog looks at camping holidays from the perspective of the family base: the tent. Here we will consider and explore a series of family camping tents available through our site, looking at convenience and practicality, as well as space, features, and ease of use.
What should you look for in the perfect family tent?
The best family tent is one with a separate sleeping and living space, with taped seams and an integrated ground sheet to help you keep the interior dry and warm, and plenty of ventilation which will prevent the inside of your tent from becoming stuffy.
In terms of additional features, there are plenty of camping tents out there which are ideal for different kinds of user and different campsites; for example, the sturdiest structures which are ideal for windy climates, compared with those using inflatable poles which are easy to construct but are not as stable against adverse weather conditions.
When it comes to price range, our top tips for buyers are to consider the following list of requirements and preferences:
Bedroom areas and whether you want to keep a separate space for storage and living quarters or spread out your sleeping arrangements.
What kind of campsite are you heading to, and will there be facilities available for you to use?
Consider the value of built-in groundsheets and inflatable poles. Can you streamline the process of putting up your tent with these kinds of additional features?
What size tent do I need for a family of four?
You would be forgiven for thinking that a four-man tent is designed for four people, and that this is, therefore, a trick question – of course, a family of four will need a four-man tent. But this is before you truly give thought to what it means to invest in a family holiday.
A one man tent is little more than a tube made from canvas, designed first and foremost as a shield to protect the user from any adverse weather conditions. In order to retain as much heat as possible, these tents are limited on space so stop cold air from getting inside and whipping around the interior, with the flooring just as important – if not more so – than the walls and roof when it comes to keeping heat in and cold out.
Once you move up towards a family tent, you start to enjoy a lot more space and freedom; with different compartments built off the central living area, either with two side compartments or three; or indeed one long tunnel shape as seen in our largest model the Outwell Knightdale 8pa. What this means is that a family of four could fit into a smaller tent – but it could also mean, for example during an extended family camping trip, that you need a great deal more space – not just for the family members themselves, but for all your accessories and packed items.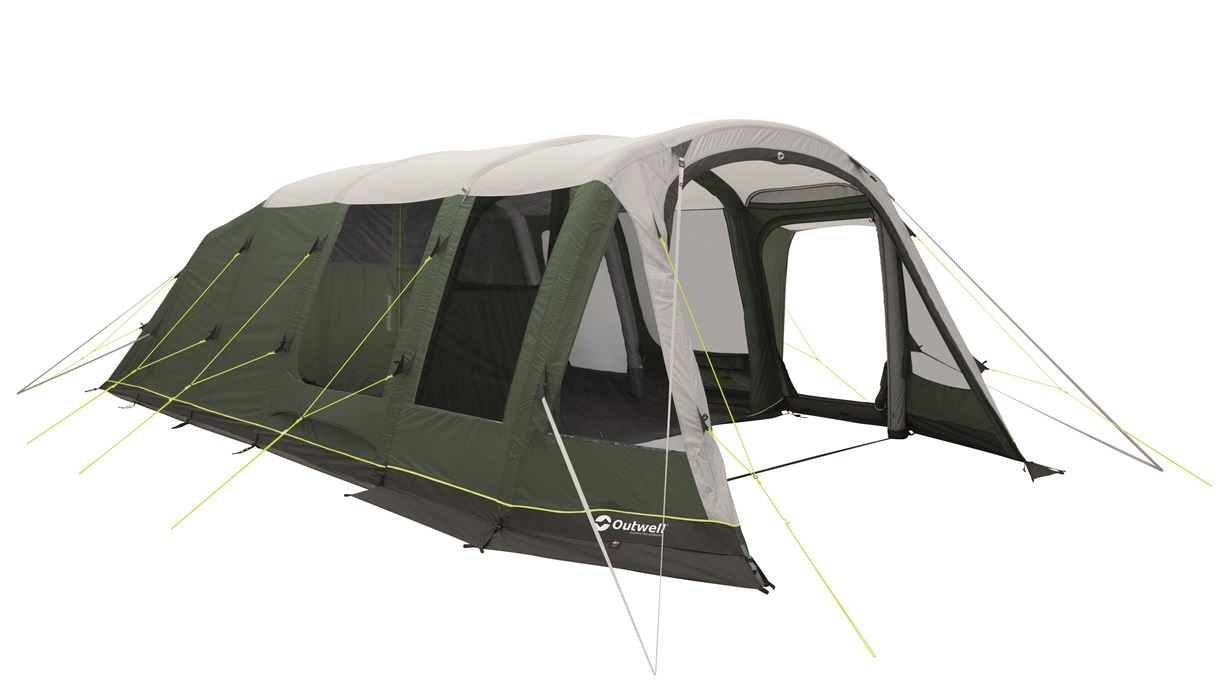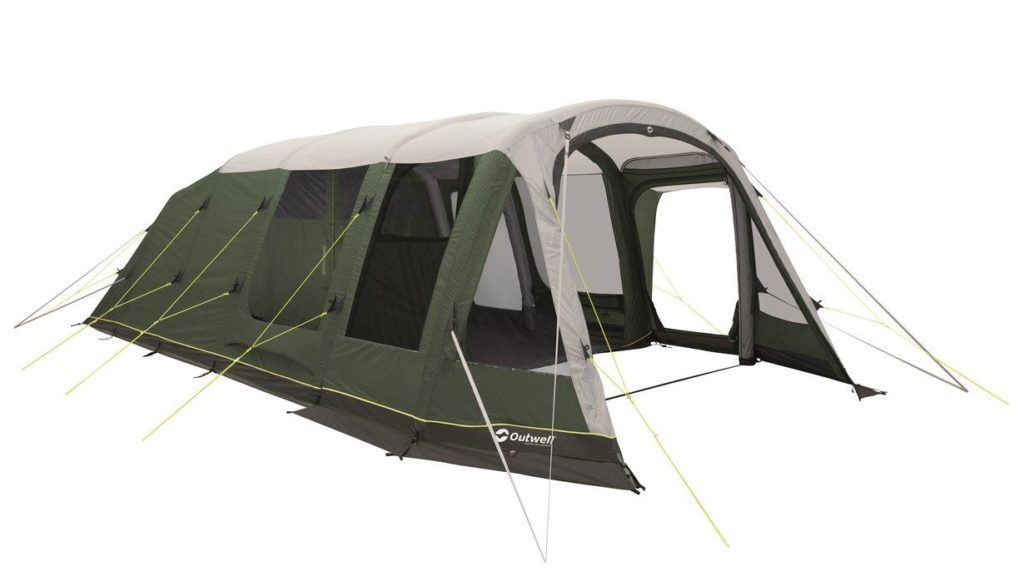 Outwell Knightdale 8pa
Our largest tent available for family groups, the Knightdale 8pa boasts enough sleeping space for 8 individuals; leaning on the benefit of multiple sections all built into the single tunnel construction of the tent. By creating compartments within the single shape, the Knightdale 8pa creates segmented spaces which allow for privacy while still keeping the overall shape of the tent well contained. One of the best features of this specific tent is the way that the front end has a large outdoor porch space which can be opened up by rolling and fastening the doors back, leaving you with an open and well ventilated social space which still benefits from complete coverage above and down both sides. Behind this, a secondary entrance way creates a walk-through into the main interior of the tent.
With such a large capacity, the Knightdale 8pa is our choice of tent for the family considering an extended break, allowing each family member to enjoy plenty of space and the opportunity for privacy which smaller tents do not allow. The material of the tent is also built for an elevated experience, providing complete weatherproofing including UV protection and surface dirt repellence which makes cleaning much easier.
Another great feature of this camping tent is that it's an air tent, making it even easier to put up. The Outwell Knightdale Tent has two bedroom areas the back as well as a one-bedroom area at the front.
If you are the type of family which uses electric hookup, then this tent comes with a zipped cable entry point allowing you to safely and securely get the cables into your tent.
The hydrostatic head of this tent is 4000mm, way above 1500 that is recommended in the UK. If the weather does turn bad while you are away, you can sit inside and look out of the windows knowing you will be dry inside.
The tent uses a dark inner to make it easier to get young children to sleep when its still light outside, but even the mesh on the walls are covered with dark curtains to stop light getting in.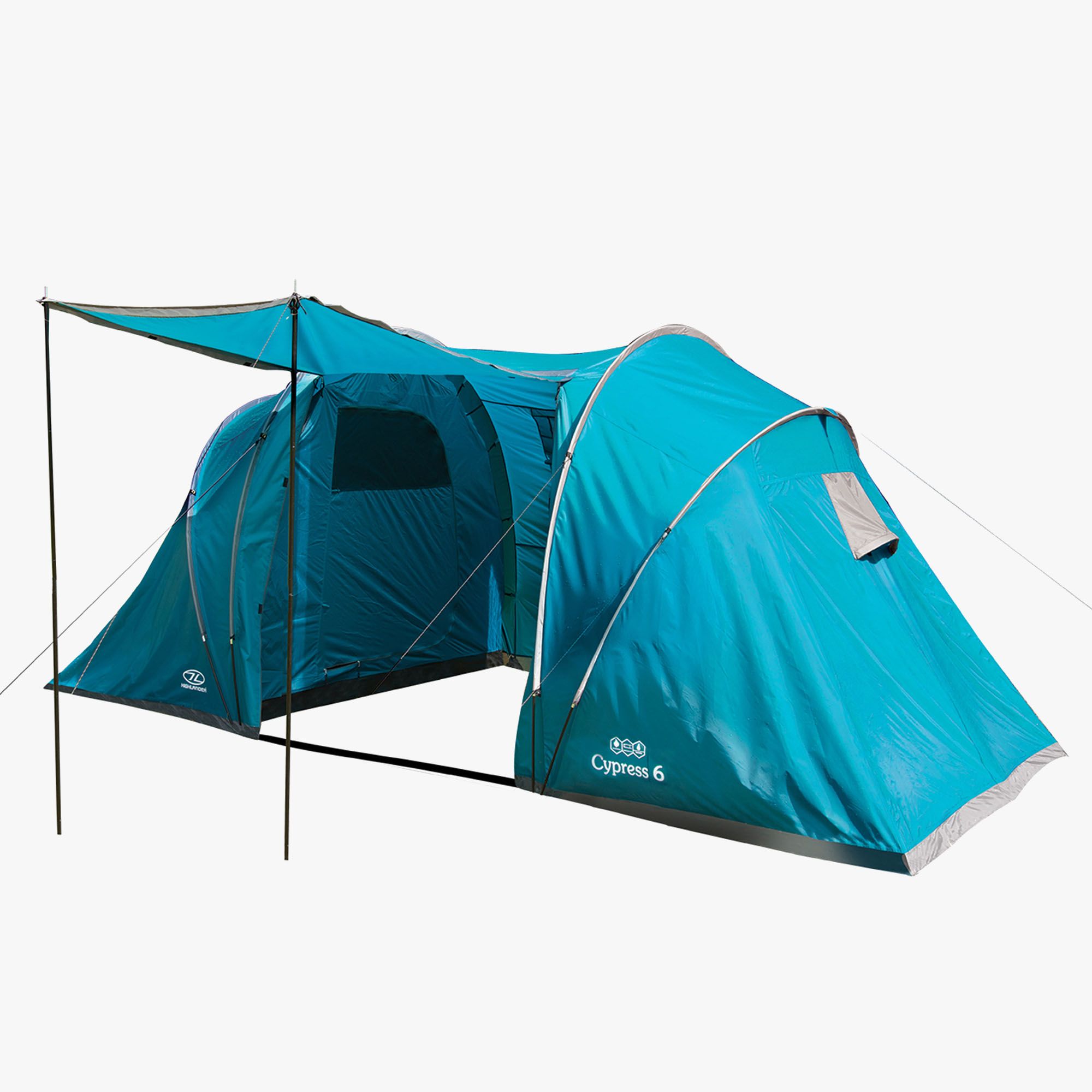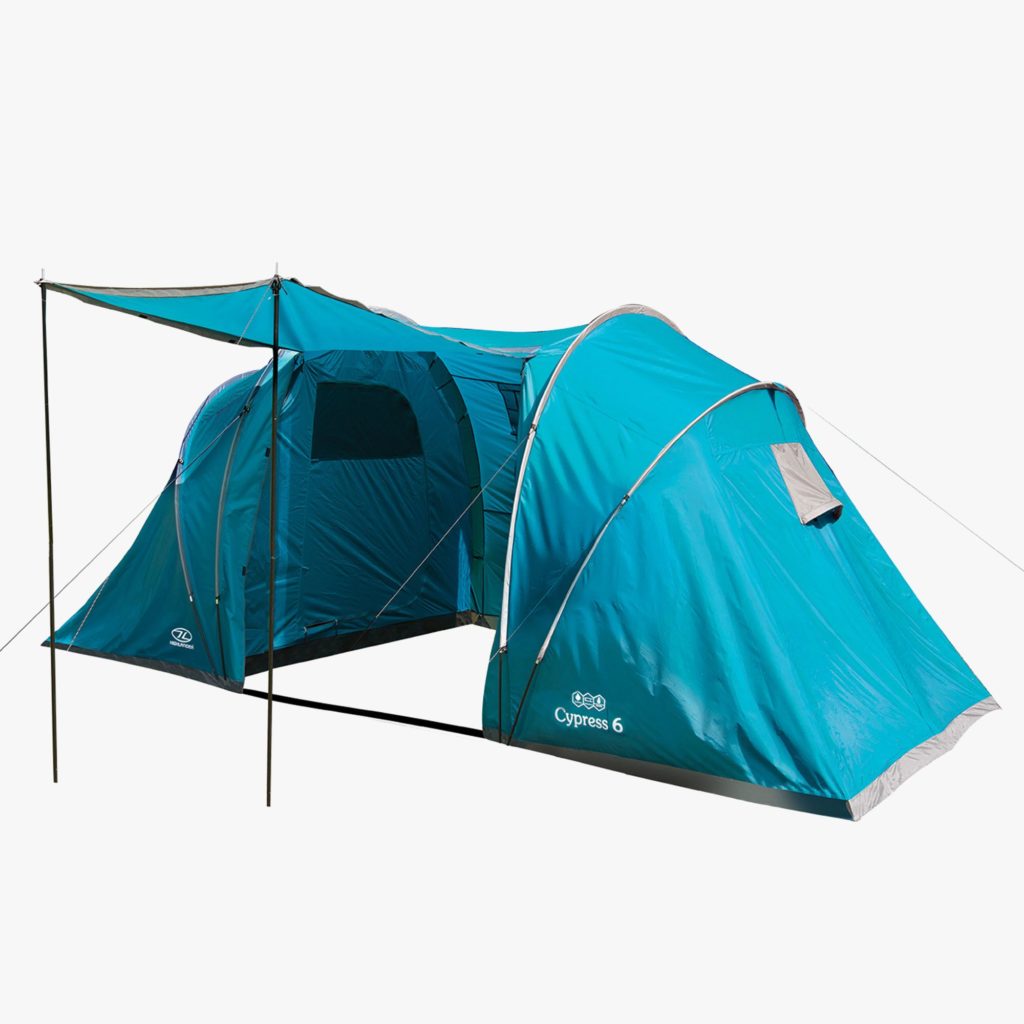 Highlander Cypress Tent
Moving to the opposite end of the scale, the Highlander Cypress tent is built for four individual sleepers, with a sleeping area at either side of the main living space creating a total of three main compartments inside the tent and an open front which lifts into an awning; elevated and held aloft with tall poles. The Highlander is one of our favourite tents for small and younger families, because of the way you can use the three main compartments at will – that is, you could just as easily create one sleeping space for the family and use the other compartment as storage and an area for getting dressed. Remember that when it comes to summer camping, you are more likely to use the outside space as much as your indoor space, and that many official and formal camping pitches around the UK provide shower facilities and bathrooms for paying guests.
With taped seams, this is one of our most waterproof tents, and it is worth noting that by excluding the interior compartments you can optimise the complete space and turn this four-man camping tent into a six man space with little hassle. Order your Highlander Cypress with the delivery of extra groundsheets and a hammock to optimise the space further during the summer month. For more on this tent, click here.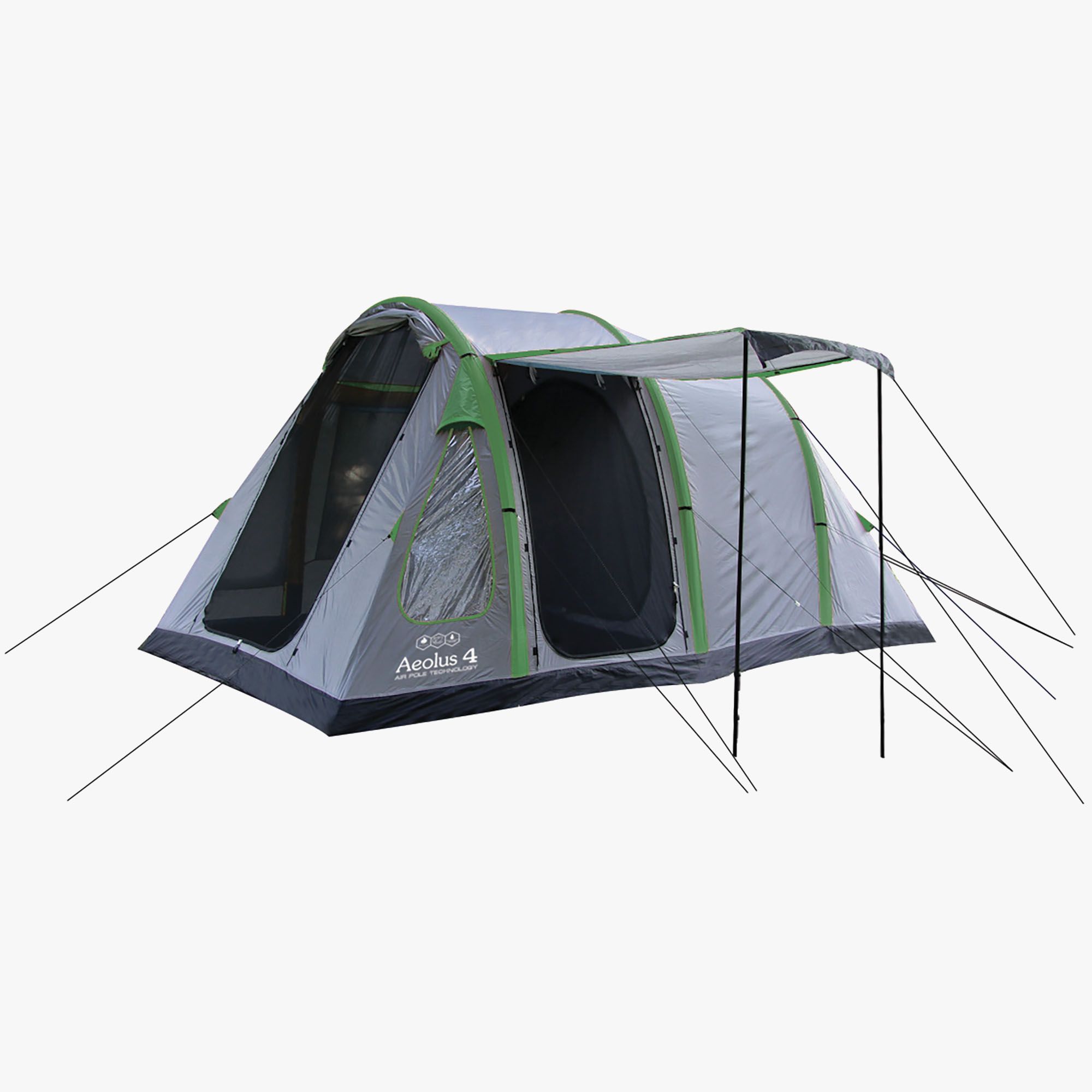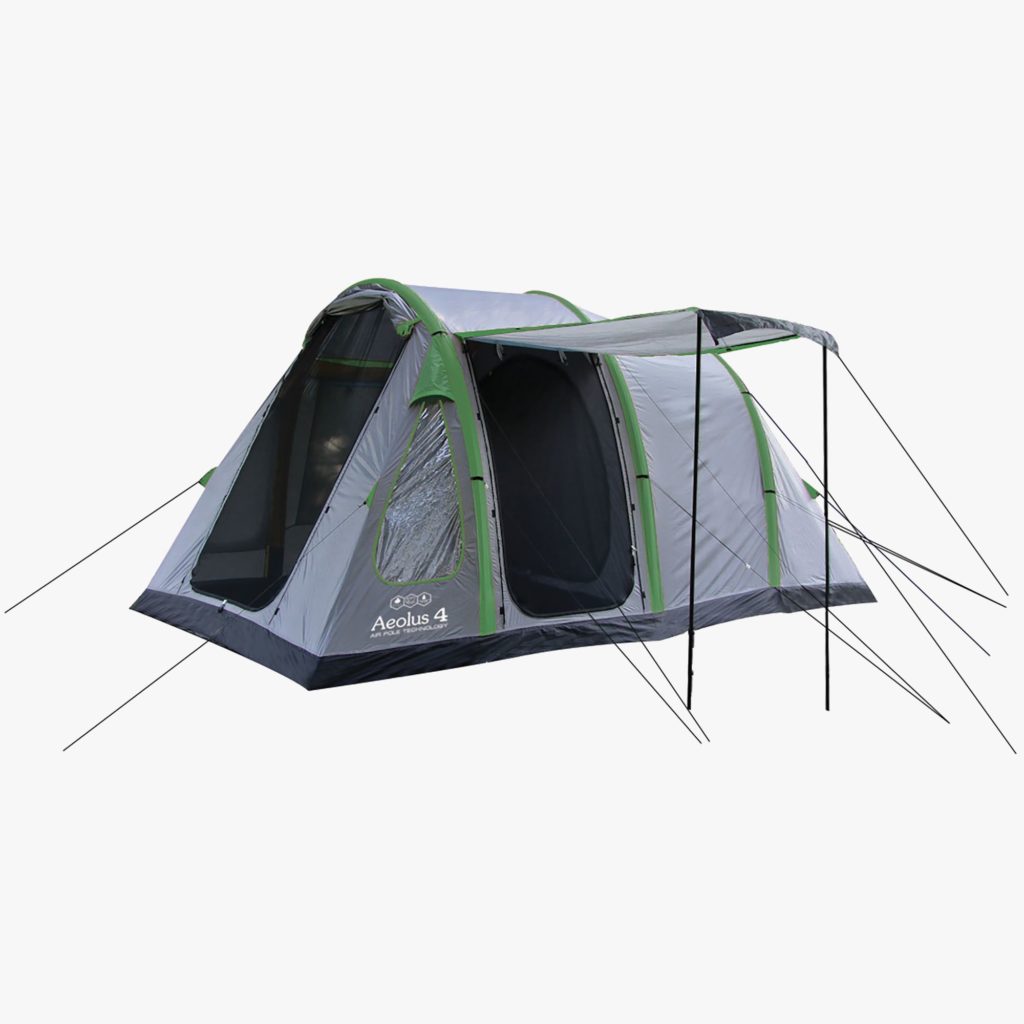 Highlander Aeolus 4 Man Inflatable Tent
Another four man tent, this inflatable model is designed for functionality and ease of use, boasting inflatable poles which make the complete tent quick to pitch and easy to carry around. The use of interior mesh doors creates a high rate of ventilation for users in the day and night, ensuring that a constant stream of fresh air is moved around the interior of the tent to keep it comfortable during the day and night, while the built in groundsheet alleviates the risk of damp or moisture getting into the tent during the night. As with the larger models, the front door to the tent can be raised and held aloft with poles to create a covered outdoor space, a feature particularly popular with families on longer breaks who want to optimise their use of space.
This tent comes with lots of windows allowing natural light to get into the tent.
As a family of four, this particular air tent is ideal for those with young children as the size limits the sleeping quarters to one compartment. The tent also comes equipped with a pump to help keep the inflated poles aloft and can be delivered with extra pegs to ensure that your tent remains fully grounded no matter what the weather is doing. Click here to find out more about this tent.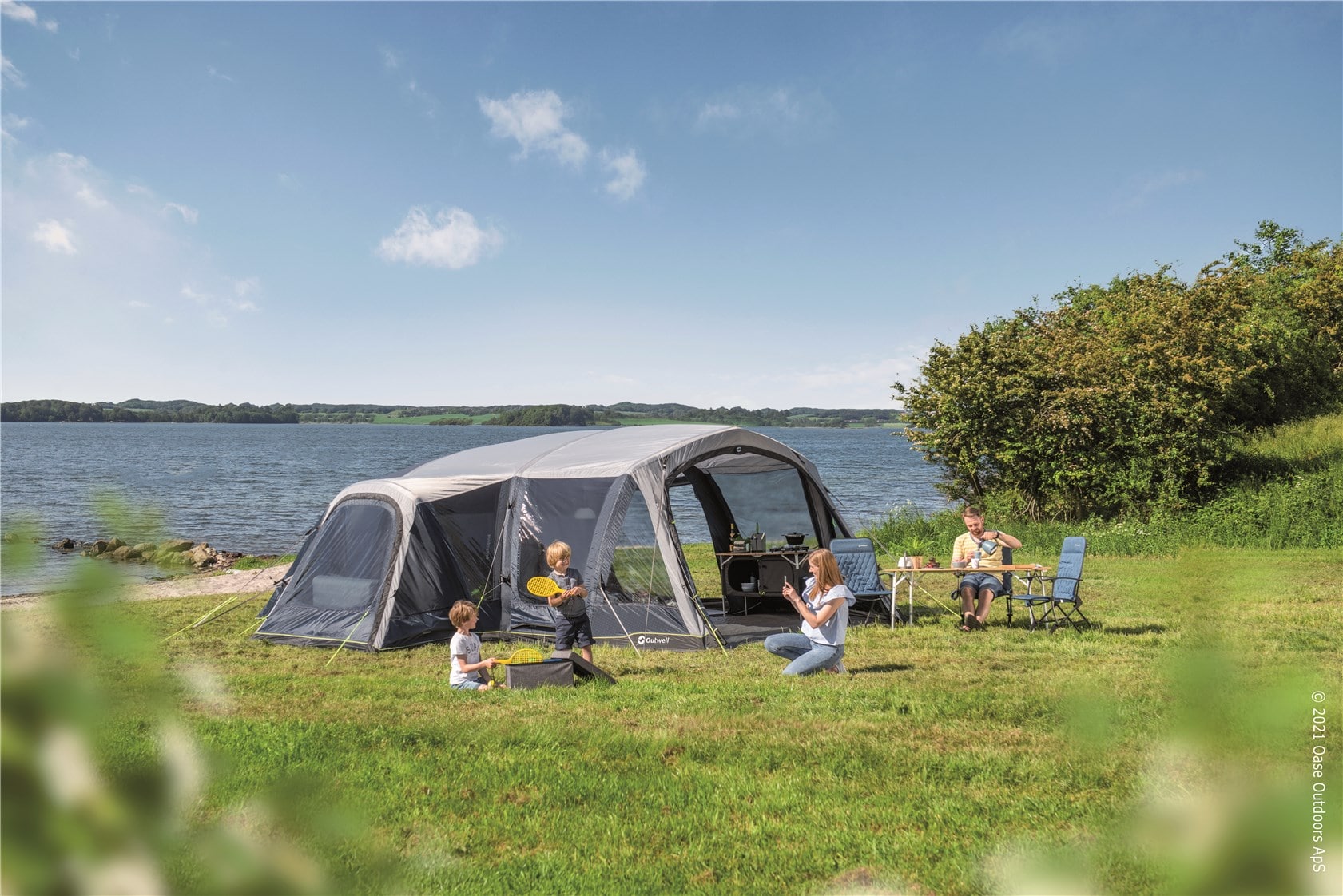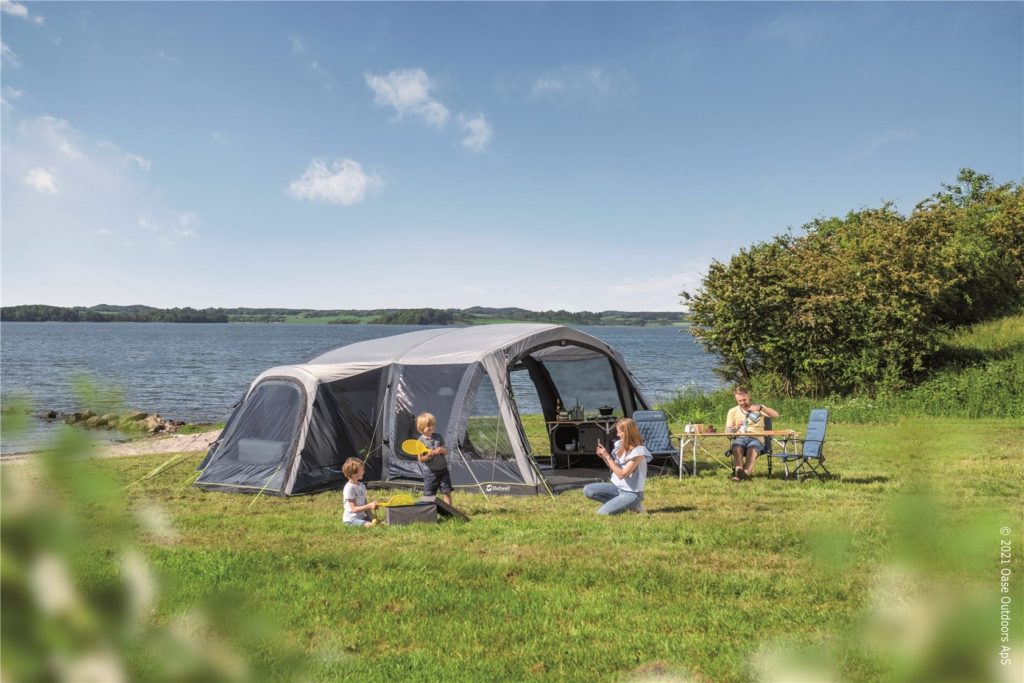 What's the best family tent?
The answer to this question very much depends on what your family likes, what kind of camping experience you are looking for, and how many of you there are.
We have already looked at our largest tent model suitable for between four and six individuals and have also explored two alternatives which both offer suitable space for at least four individual campers.
Here at The Expert Camper, we are proud to offer a wide range of tents suitable for all sorts of camping holiday, with each model offering its own unique selling points. Not only that but all of our tents ordered before 9pm are dispatched on the same day for quick delivery, and each model of tent comes with its own recommended extras. Here are some of our other top tents for families.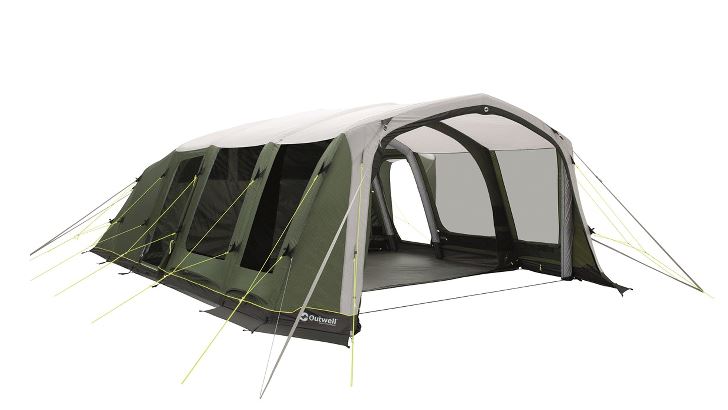 Outwell Sundale 7pa
One of our top level 7 person tents, the Sundale is particularly good for families because it utilises a much broader and wider construction and so immediately creates a more open living space for the family to enjoy. We often find that families are drawn towards tents which offer large openings to increased ventilation and ensure a good level of airflow both during the day and night, and so this model is up there are one of the best in terms of the way it is built to offer a completely open front end which can be zipped up during the night to create a blackout bedroom space. The build of the tent as a whole relies on the common tunnel tent design, segmenting into up to 5 different compartments depending on how you choose to use the interior spaces combined with the outdoor porch area.
As well as the main door, there are two side doors. While there is one big bedroom area at the back it separates into three bedrooms. Allowing you all some privacy when in your bed.
The hydrostatic head of this tent is 4000mm, way above 1500 that is recommended in the UK, so no matter the weather you will have a great camping trip. There are many storage pockets located throughout this tent, meaning you can easily organise all your camping products.
Another selling point of this model is its height which allows the family to stand up all the way through the interior of the tent, alleviating the need to stoop or crawl through every time you need to move through the tent. Despite its size, the Sundale 7pa is quick to pitch thanks to its basic construction and the fact this is air tent, making it ideal for pitching at the end of a long day.
I would personally put this in the best family tents category and its the one I personally have bought to use in 2021. we arent a large family, just me, the wife and three youngish kids. One of the features I did like, was the blackout bedrooms for when we are trying to get the youngest one to sleep, even the mesh is covered in dark curtains to keep out the light.
We are looking to get a few family camping holiday breaks in during 2021. The kids are looking forward to the next year as we couldn't really have any breaks this year.
I would have been happy to camp in any of the tents on this list, in fact, the idea of the site is we don't stock products we won't use, but I can't take several tents with me so had to make a decision.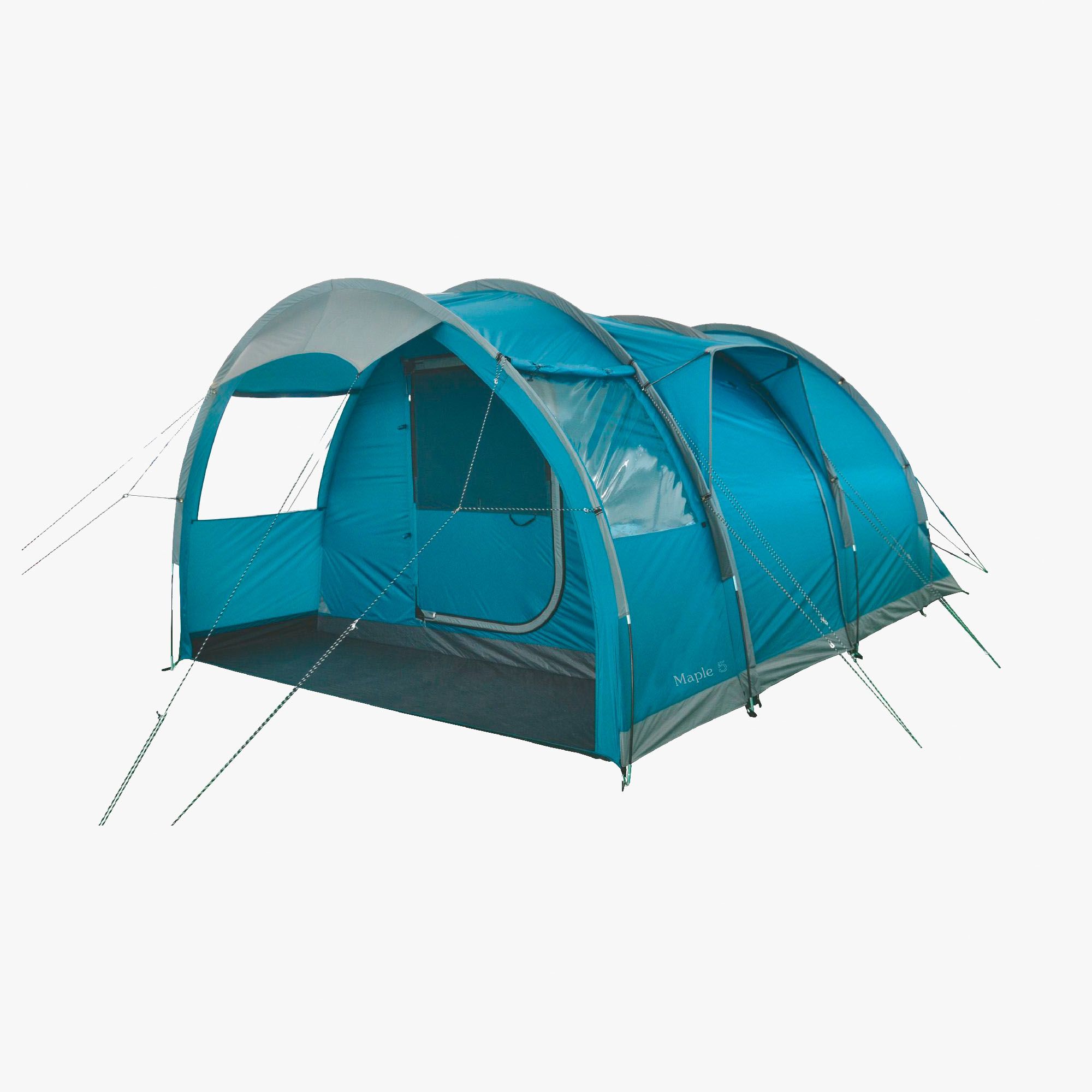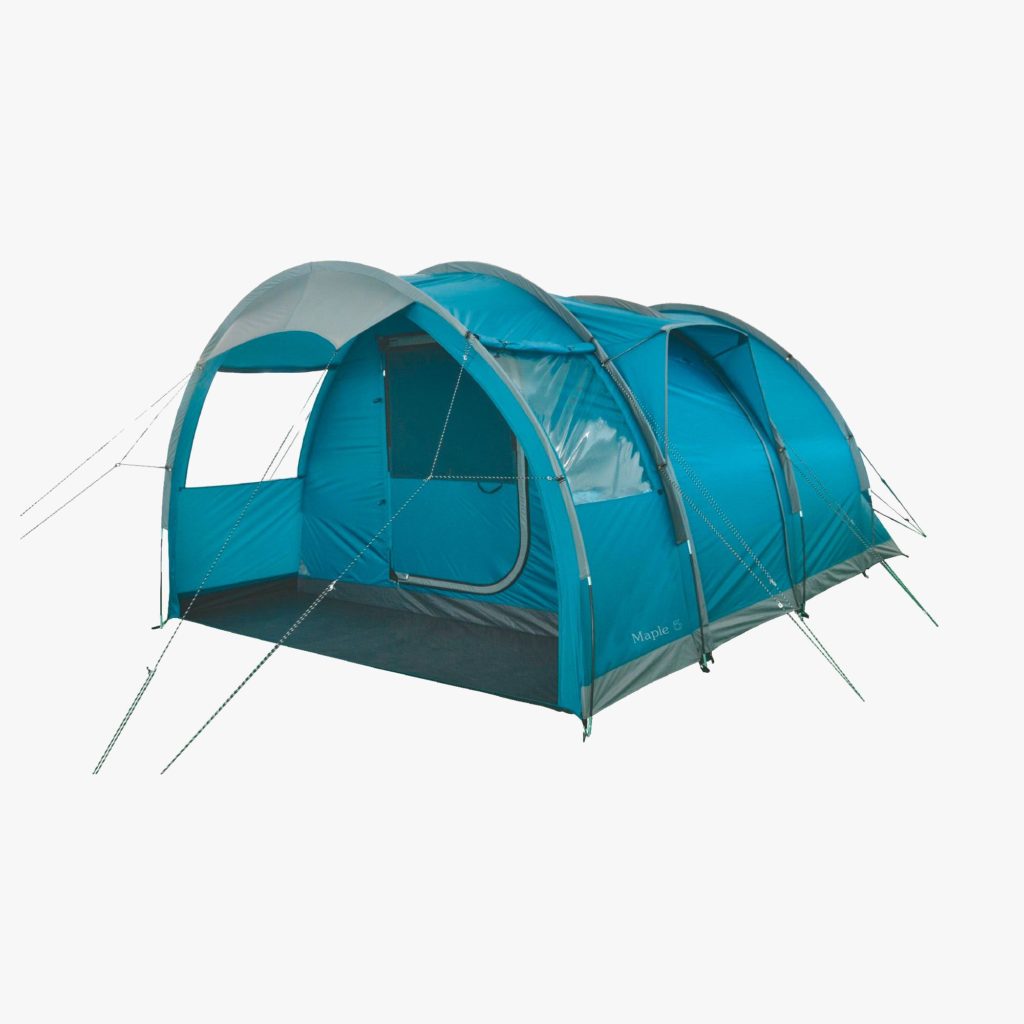 Highlander Maple 5 person tent
One of our most popular family tents, and for good reason, this 5 person tent uses the tunnel tent structure to ensure the optimum amount of moving space for users who want a fine balance of bedroom space and living space. The large open front of the tent provides an immediate shelter for the interior; particularly ideal for increased ventilation and airflow through the tent regardless of the weather conditions outside. After all, we are in the UK and rain and wind are aplenty, even during those summer camping months!
The tent uses the traditional fibreglass poles and is super easy to pitch, it also comes with a front door and side door allowing for easy access. The front also has a little cover mean kids and adult have somewhere to store their shoes without getting the inside of the main tent dirty.
The fully sewn-in groundsheet makes the build process of this tent super easy, while the high-visibility guy ropes mean the tent can be fully protected and held firmly to the ground without creating a trip hazard. Add to that the vibrant teal shade of the tent and you've got yourself the perfect accompaniment to a family camping adventure. To find out more and get your hands on our popular Highlander Maple tent, click here.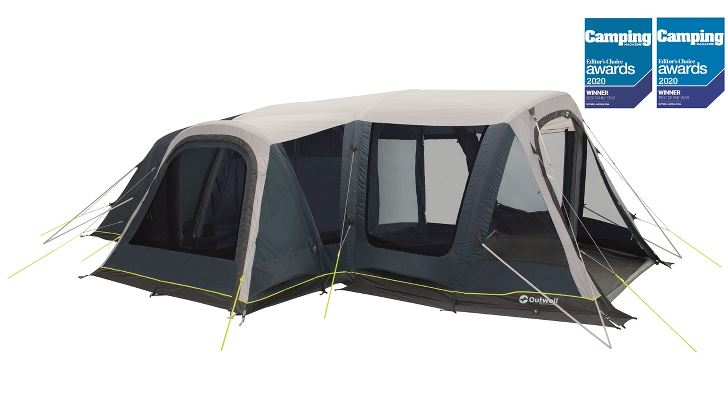 Outwell Airville 6sa
One of our most innovative models in terms of design and construction, as well as the winner of the tent of the year award at the 2020 Camping Awards, the Outwell Airville 6sa moves away from the standard tunnel tent design and instead utilises bedrooms built away from the main living space; creating a complete tent which is particularly popular with families with older children who may be looking for a little more privacy and their own space. Offering two complete bedroom spaces as well as a large interior and outdoor living space, the Airville 6sa comfortably fits a family of six – and thus for a family four would leave enough room for storage and activities. The poles within the Airville, as is the case across the entire range of Outwell tents, are inflatable which makes the tent quick and easy to pitch and move around, while the lightweight of the tent means it can easily be moved around during the day as you seek the perfect pitch space.
All of our Outwell tents come in a classy dark green, allowing you to really feel like intrepid campers as you move from destination to destination and enjoy the sights and sounds of a UK staycation. With enough windows, plenty of light is able to get into the tent allowing you to see.
With this being an air tent, it takes the air seconds to blow up the tent. No more struggling to get fibreglass poles into the little holes.
This 6 person family tent is ideal for summer camping in the UK. With a small wing lounge area which can be used as a storage area freeing up the main living area to relax.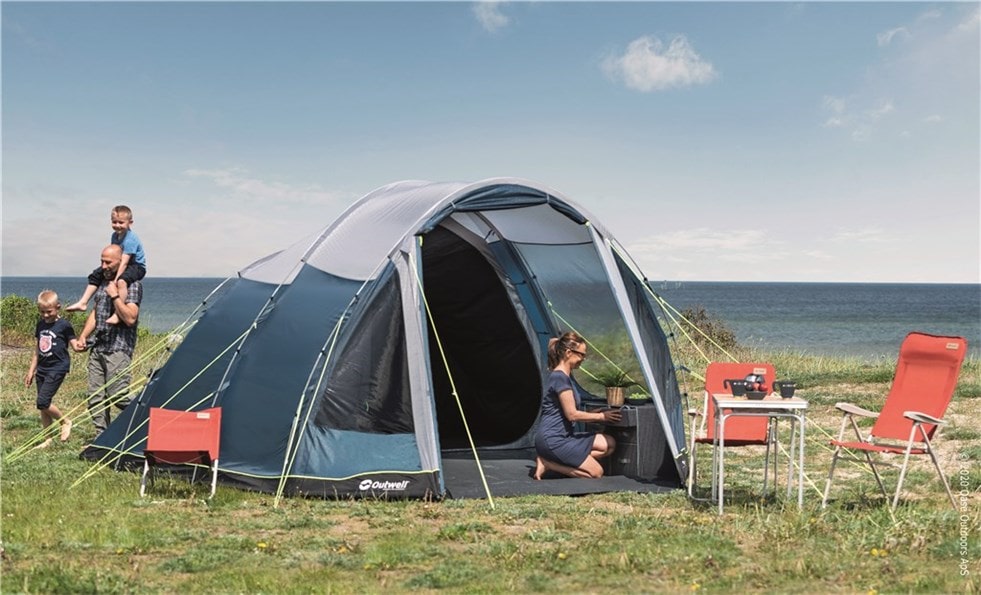 A Summary of Family Tents
When it comes to family camping holidays, there is little more wholesome than a camping adventure. All our tents are perfectly designed to be quickly and easily erected on your choice of campsite, providing adequate shelter and sleeping space for the whole family depending on the extra features and space you think you will need.
For the standard family of four, we recommend opting for a five or even six-man camping tent if you are considering a long holiday, as the extra space will give you plenty of room to comfortably spread out. If you have a younger family or are a family of three, a 4 person tent should provide adequate space – with our largest range of tents sitting under the 4 person tent category. All of our models are well priced to work alongside any budget, with same day dispatch on any tent ordered before 9 pm. With multiple delivery options, the tent can be with you in just a few days meaning you can start planning your family camping trips.
In fact, once you have your family camping tent, all you need to do is grab your tent and sleeping bags and you can go away whenever you like.
For more on our full range of tents, plus the wide range of accessories designed to optimise your camping experience, head to The Expert Camper today.