New Zealand is a great place to camp out under the stars, and as an island nation it has spectacular scenery and surroundings to enjoy.
Like any other holiday or trip out for a long weekend, it does need planning and of course, the right equipment for the terrain and climate implications.
The climate differs between the North and South Islands, with the north being a little hotter than the south, due to its position (closer to the Equator). The further you are to the north of North Island, the hotter and more humid it becomes, but even then, temperatures rarely reach more than 30°C. The interior of the island, however, remains relatively cooler in comparison, with a top summer temperature of around 20-22°C.
The South Island is less aggressive in terms of temperatures, with a mean summer average of 16-22°C. Winter, however, can be a little harsher, with the ability to register temperatures around freezing point. If you decide to camp out in these wonderful surroundings, do pick the time of the year and location carefully, however beautiful it may seem.
Can people camp anywhere in New Zealand?
There are strict rules about where you can camp, it is not just a case of finding a pretty spot and pitching your tent or parking your camper van. In most areas, signage will tell you what and what not to do in that area.
Freedom camping or Wild camping as it is named, is just what it says on the tin. You can camp almost anywhere on the islands but do check the rules for the area you are staying in, as fines can be incurred from the local authorities, even though it is not illegal. Freedom or wild camping is still controlled by the local authorities, so if you just stop anywhere, you could be paying a $200 fine, or worse if you refuse to move on, insult or be aggressive to a government official or be seen to be dumping rubbish. For New Zealanders, it is all about showing respect for their countryside and facilities. There are plenty of completely free sites, but even those that charge a nightly fee only cost less than $20, which does include varying facilities. Keep an eye out for these warning signs from the DOC whilst camping: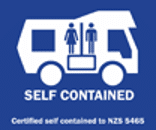 A round red and white sign with a red bar through a tent and caravan means camping overnight is not allowed.
A blue sign with a white caravan and 'SELF CONTAINED' written beneath it means camping overnight is allowed for self-contained vehicles only.
The Department of Conservation (DOC) provides an app plus any maps and information about camping in New Zealand, including all the free sites as well as those that charge a fee. It really is wise to avail yourself of this valuable information to ensure that you stick to the rules and avoid fines.
Having said this, New Zealand welcomes campers so there is no need to feel restricted, as there are so many wonderful locations for you to choose from.
Great locations to camp in New Zealand
Here are some fantastic locations to camp in New Zealand, whether camping in tents or motorised vehicles:
North Island, New Zealand
Medlands Beach Campsite, Great Barrier Island, $13pp per night
A world away from the beaten track, Medlands Beach Campsite is on the idyllic Great Barrier Island. The island, which is home to just 1000 full time residents, is a four-hour ferry ride from Auckland and boasts stunning white beaches and incredible scenery. The campsite is maintained by the DOC (Department of Conservation) and, if you are addicted to your Wi-Fi, turn away now. Although the site features clean showers, toilets and a waste worm farm, Wi-Fi and phone reception are a little harder to come by. Despite its incredible beauty, the remote location of the campsite means that it is not too crowded, even at the height of summer.
Lake Maraetai, Waikato District, $13pp per night
Located on the Waikato River in the North Island, this breath-taking campsite features astonishing carved gorges, embankments, and verges. A well-kept secret, this campsite features toilets and drinking water but not much else – perfect for the camper looking to get off the grid for a while. The area also boasts some great mountain biking trails for those looking to stretch their legs.
Mount Manganui, Mauao, $50 for two people per night
Located at the very tip of Mauao, this ocean and harbourside park offers the ultimate in waterside camping. With stunning views, Mount Maunganui offers a range of accommodation options as well as camping facilities. On site facilities are plentiful but the site is large enough for privacy, making it the best of all worlds for campers.
Arohena Campsite, Waikato District, $8pp per night
Tranquil and pretty, this campsite on Lake Arapuni is the perfect unplugged camping experience. Framed by lush greenery, the site offers little in creature comforts but much in natural beauty. Fishing, swimming, and water sports are permitted at this little-known treasure.
South Island, New Zealand
DOC Campsite, Aoraki / Mount Cook, $13pp per night 
At the foot of Mount Cook on the South Island, this DOC Campsite encompasses everything that is great about New Zealand's rugged landscape. Surrounded by majestic mountains, glacial water, and scenic trails, including the Hooker Valley Track, the campsite's facilities are limited to toilets (but there are hot showers to be had just a short drive away in Mount Cook Village.
Lake Hawea Freedom Campsite, Queenstown, $12pp per night
If you are looking to escape into nature, you can do no better than Wanaka's Lake Hawea. Surrounded by stunning mountains and panoramic views, you can pitch your tent right at the lakeside for the ultimate camping experience. Campsite facilities are basic, offering not much more than public toilets.
Aoraki Mackenzie International Dark Sky Reserve, $ variant on accommodation
Aoranki Mackenzie is the star of our camping guide – quite literally! In the Mackenzie suburb of Tauranga, limited pollution allows for breath-taking views of the night sky within this 4300 square kilometre campsite. As well as stunning natural views, campers can visit the Mount John Observatory for the ultimate star gazing experience. Aoraki offers full facilities along with accommodation options which include cottages, room rental and camping.
Totaranui Campsite, Golden Bay, $15pp per night
This huge national park can accommodate 850 campers with plenty of private spots, making it great for those looking for a little solitude. Located on the shores of Totaranui beach, this little-known gem offers stunning scenery, swimming, water sports and hiking trails. The campground does have facilities, including a shop, but these are likely to be quite a hike from where you set up camp.
Do campsites in New Zealand have facilities?
Authorised campsites on the islands have good facilities for tents, motorhomes, and other vehicles. Quite a few also offer basic accommodation in chalets or motel-style rooms, should you fancy a night in a comfy bed!
Campsites are regularly inspected for cleanliness and up to date facilities such as washrooms, toilets, shower facilities etc. The majority supply power facilities as well.
But it is not all about that – regulated campsites are often in the most beautiful locations by a lake or a beach with stunning scenery.
What equipment is it advisable to buy or take?
It really does depend if you are backpacking or hiring a motorised vehicle. Even though the climate is temperate, the locals will tell you that in New Zealand you can experience 'all four seasons in one day', including bursts of torrential rain and snow in the more mountainous regions!
If you are backpacking, you are obviously limited to what you are prepared to carry around. Quite a few of the sites have a shop or mini mart, which can provide you with basic provisions and small pieces of equipment such as torches, batteries etc. Some will also have waterproofs (for that four seasons in one day occasion!), umbrellas and anything else to shield you from inclement weather. It really does depend on the size of the campsite, and what you need, have forgotten or lost in your travels!
If you have camped before, then you will already know what the essentials are, bearing in mind the load you may have to carry. There are a multitude of lightweight items now on the camping market, but these do vary considerably in price. Here are some suggestions.
Lightweight backpack with waterproof cover or 'drybag' – essential
Lightweight tent (size according to how many people) but not necessarily essential if it does not matter to you. Do not forget the pegs and secure ties!
Lightweight sleeping bag (around 1kg in weight) – essential
Sleeping pad (for comfort rather than essential)
Tarp (tarpaulin) protects from bad weather, but not essential depending how hardy you are and whether you are taking a tent or not
Compass, maps, guides to campsites – yes, these are essential
Mobile phone with GPS tracking
Small, easy to use cooking gadget or stove with fuel container – essential. The most used fuels are butane or propane.
Something to light with – such as a striker (matches are good until they get wet!) – they are not particularly expensive
Torch or headlamp – essential
Sporks – perfect for eating, combo of spoon and fork in one item
Water bladder (carrying water)
Steriliser, for water if necessary
Small pan with folding handle for cooking – essential
Camping cup/mug
Quick-dry clothing and waterproofs – dependent on weather and what you are comfortable in when hiking, the same applies to boots or shoes – they must be comfy.
First aid kit to include bandages, plasters, antiseptic, insect repellent.
Whistle
Camp knife (foldable)
Personal hygiene items
Everything else very much depends on whether you intend to camp in 'the back of beyond' and may not have access to shops or other facilities. Simple items such as toilet rolls may come in handy if you are halfway up a mountain!
This may seem an extensive list, but well-equipped camping suppliers will have all of this in stock, and probably a check list of items as well. All of these items really should not weigh very much in total. You may also want to buy some freeze-dried goods in case of emergencies.
As New Zealand is all about outdoor living and fresh air, it is an attractive destination for campers, and because of this, their camping stores are second to none. You could, of course, decide to purchase absolutely everything on arrival!
If you are going the 'wild route', safety is of paramount concern. Whilst you may fancy some isolation and peace, try to advise someone when you leave one place and go on to the next, in case of an emergency. Freedom or wild camping can be a wonderful experience, but there can still be an element of difficulties.
Is it easy to buy camping gear that is not expensive?
It is easy. There are multiple choices of outlets to buy from, but you need to leave yourself time at the beginning of your trip to hunt out the bargains.
Just like the UK, there are several methods you can use, not just using a camping specialist store. There are second-hand stores (called op-shops in New Zealand) that have a wealth of stuff to purchase including camping gear. Another alternative is army surplus stores (again, like the UK) but these may cost you a little more. It depends if you want new gear, particularly anything that is waterproof. When you buy waterproof items second-hand, you will probably need to use a spray to recoat these goods.
Facebook groups are another useful tool in locating camping gear. There are several listed, but this is a particularly popular Facebook group for camping essentials. There are others but this site is frequently used by campers who have purchased items and want to resell as they leave the country.
You can also try an auction site such as TradeMe. This site is very much operated the same as eBay and good deals can be found on there for many camping items. It is also worth browsing any of the local newspapers where you are located under classified or trade ads.
If you want to buy new, New Zealand has several camping equipment chains and independent shops. Kathmandu, Macpac, Torpedo7 and Bivouac Outdoor are amongst the larger chains, but do not ignore any small local ones wherever you are staying. You never know what you will be able to find, so give yourself that couple of days to look around before departing to some peace and tranquillity.
A final option is hire shops, of which there are many. Be prepared to pay a deposit though, that may well exceed the actual cost of the equipment, to make sure you return it!
Above all, enjoy this amazing country and what the outdoors life has to offer.