Hiking is a great hobby to have.
It allows you to relax in the wonder that is nature whilst simultaneously serving as a great form of exercise.
It's a hobby that almost everyone can get into. All you need is a backpack and your two feet for you to get started.
It's an activity that I strongly advocate for everyone to partake in.
As such, here is a short guide for beginners about the basics of hiking.
The big question is, how can you find hikes near your area?
This can easily be the most intimidating thing.
After all, where do you begin?
The great news is that there is a wealth of resources available on hiking.
If you're more old school, pop on down to your local bookstore and find books on hiking within your region.
There would be maps and trails included within your book.
Otherwise, an easy search online would help you find great trails to follow.
Some of these trails can even be downloaded onto a GPS device for you to follow.
Lastly, you could always find trails simply by talking to others.
If you know anyone who hikes, they would be a great resource.
Ask them what's their favourite hike.
Alternatively, you could look towards local hiking groups or ranger stations in your area.
They would also have a wealth of information. 
Ultimately, there are several factors to consider when you pick a route.
You might immediately be drawn to the route with the best views.
However, this route might be wholly unsuitable for beginners.
Therefore, you should always consider the following:
1. How Long Do You Intend To Hike For? 
Some routes would take longer and some shorter.
If you only have the afternoon to hike, you'd want to choose a shorter route.
Hiking can always take longer than you'd expect and you should always take that into consideration. 
2. How Fit Are You?
Hiking can be an extremely strenuous exercise.
This is especially so if there's a lot of uphill involved.
When choosing a hike, you have to consider your fitness.
Will you be able to comfortably hike the route you've chosen?
If you can't, choose another route.
You wouldn't want to push yourself too hard and end up injured. 
3. How Far And High Do You Want To Hike?
Again, different routes have different total distances and total elevations.
You'd want to pick a route with distances and elevations that you're comfortable with.
It would be most upsetting if you hiked halfway and chose to turn back.
Therefore, choose hikes that you are comfortable with.
Elevation gain can also be extremely challenging as you might suffer from vertigo.
Therefore, be careful when picking routes. 
4. What Will The Conditions Be Like? 
It's also crucial to look at what the potential conditions will be for your hike.
Is it winter?
If it is, will it be snowing? How cold will it be?
These conditions might affect your hike, especially as a beginner.
Therefore, as you pick your route, do take note of these conditions.
You might want to choose a different hike or day if the conditions are too nebulous.
What Kind Of Gear Does One Need?
Hiking is great for many reasons and one of them is that it doesn't require a lot of specialised gear.
However, there are certain essentials to have.
These are commonly known as the "Ten Essentials".
These are all required for survival and they include items such as compasses, sun protection, insulation, lighting, first aid, fire-starting equipment, nutrition, hydration, and emergency shelter.
Every time you go hiking, you should always carry these items with you.
Aside from that, most of the gear you need is for carrying or wearing.
1. Footwear 
If you're planning to get into hiking, good hiking footwear is a must.
Hiking footwear can make hiking much easier as they are built especially for hiking.
There are two main types of footwear when it comes to hiking.
One, light trail-running shoes. These are almost like your running shoes but they're made with special soles for extra traction.
Or two, over-the-ankle boots.
These boots are usually tougher and better for stability.
Their soles will also be cushioned and designed for added traction.
Depending on your own personal preferences and your hiking habits, either type could be your choice. 
However, do remember to break your shoes in before wearing.
This will make it much more comfortable.
You should also wear wool or synthetic socks with these shoes for the best results.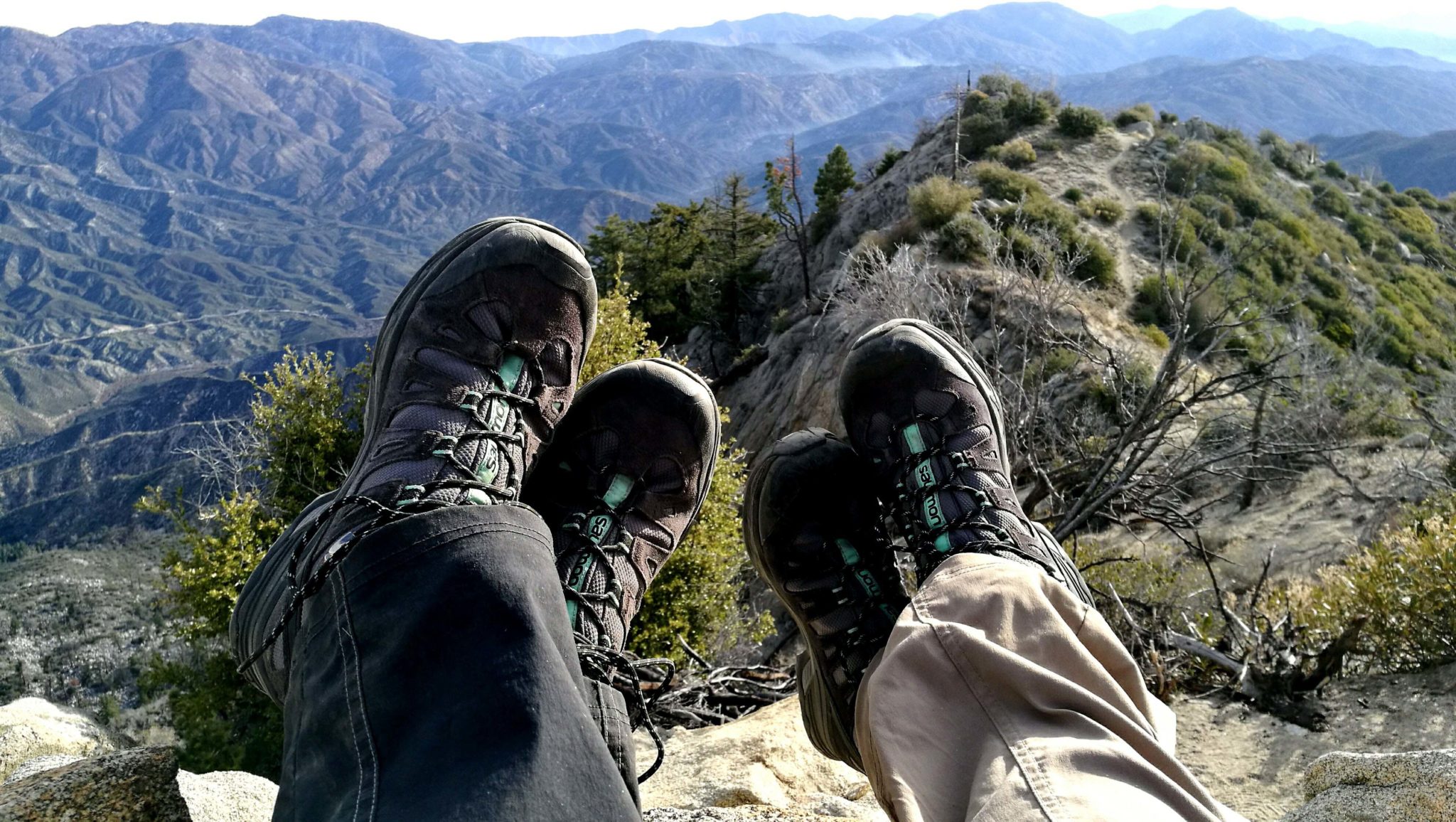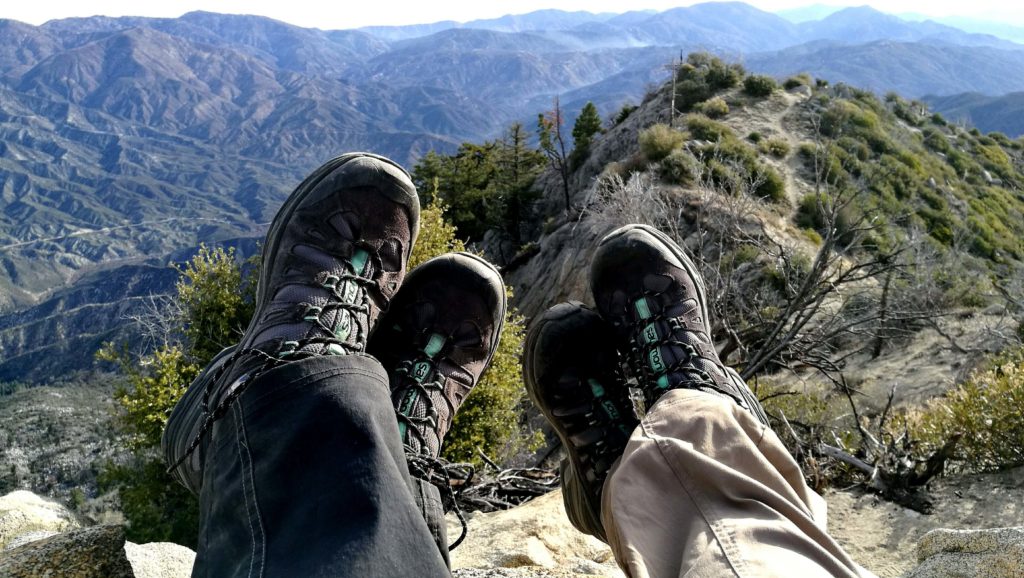 2. Clothes
In general, you'd want to choose clothing that can dry quickly.
This is important as it is easy to get wet when hiking.
Aside from that, you should always dress in layers when hiking.
This makes it easier for you to add or strip as the weather changes.
Here are the different layer types:
Base: Depending on your weather conditions, you'd vary this. If it's cooler weather you're in, you'd want something that can keep you warm. If you are in warmer temperatures, you want this layer to be light and sweat-wicking. For most, this layer is usually a wool or polyester layer. 

Hiking: This would be layered over your base and they'd usually be a pair of pants, a shirt, and a hat. These layers are important for sun protection. 

Insulation: If it's cold, you'd need this overlayer to keep warm. It could be a vest, or jacket, pullover, warm beanie, and gloves. 

Rain Protection: Lastly, you'd have a waterproof layer to keep you dry in the event of rain. This could be rain pants and a jacket. 
3. Backpack 
No hiker is complete without a backpack and a backpack is highly essential as you'd need it to carry your essentials and some extra gear.
Depending on your hike and its duration, you'd need different sizes of a backpack. 
If it's a simple, short hike you're going on, a daypack with fifteen to twenty litres of space is enough.
This would be sufficient for you to carry all your essentials, extra gear, water, food, and snacks. You could easily get such a daypack at the mall. 
If your hike is more intense or longer, you'd want a bigger bag.
A bag that's about thirty litres is good for carrying all your essentials, extra gear, clothing, water, and food.
For bigger bags, you might want to get bags with good support or airflow.
This would make it much more comfortable to carry.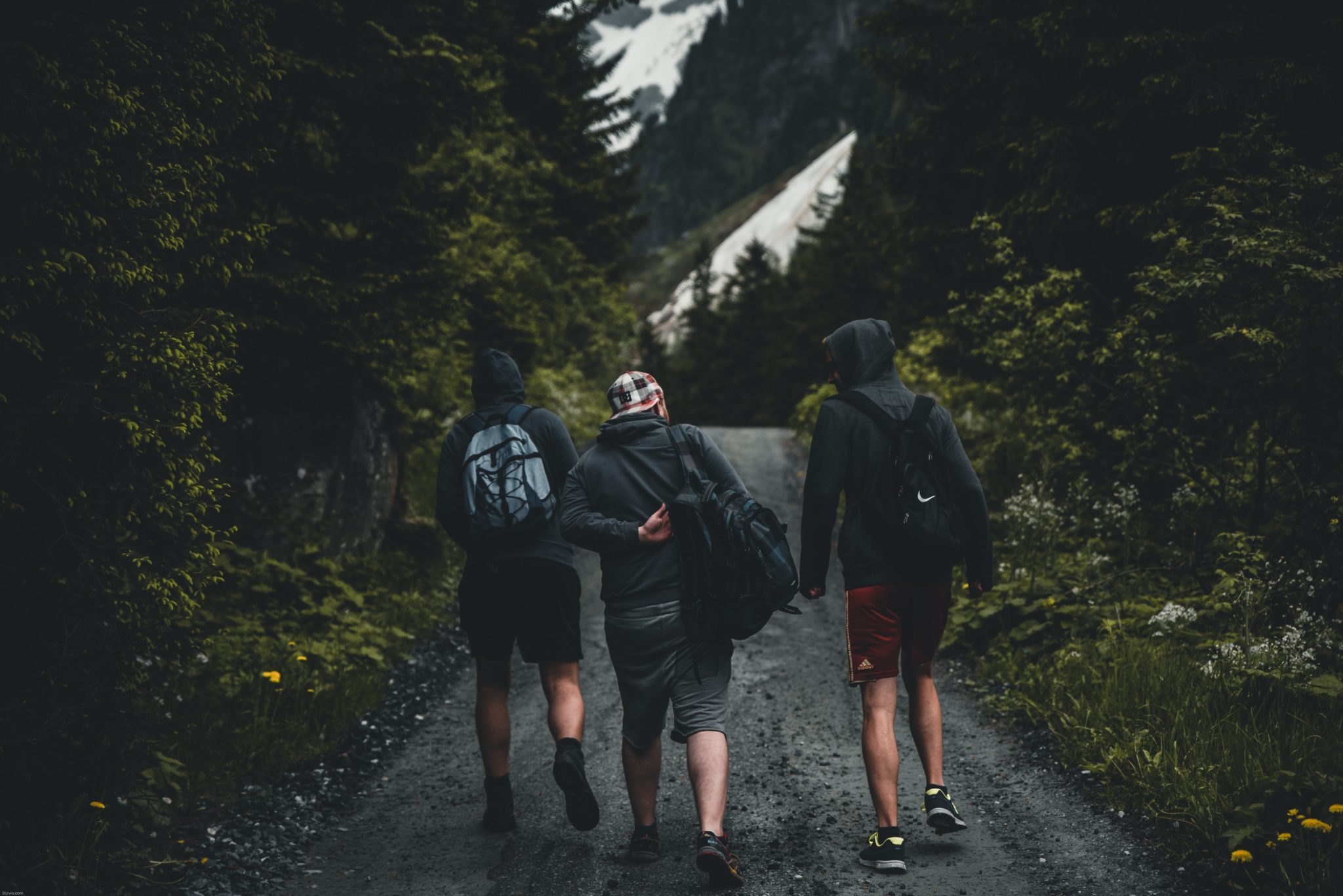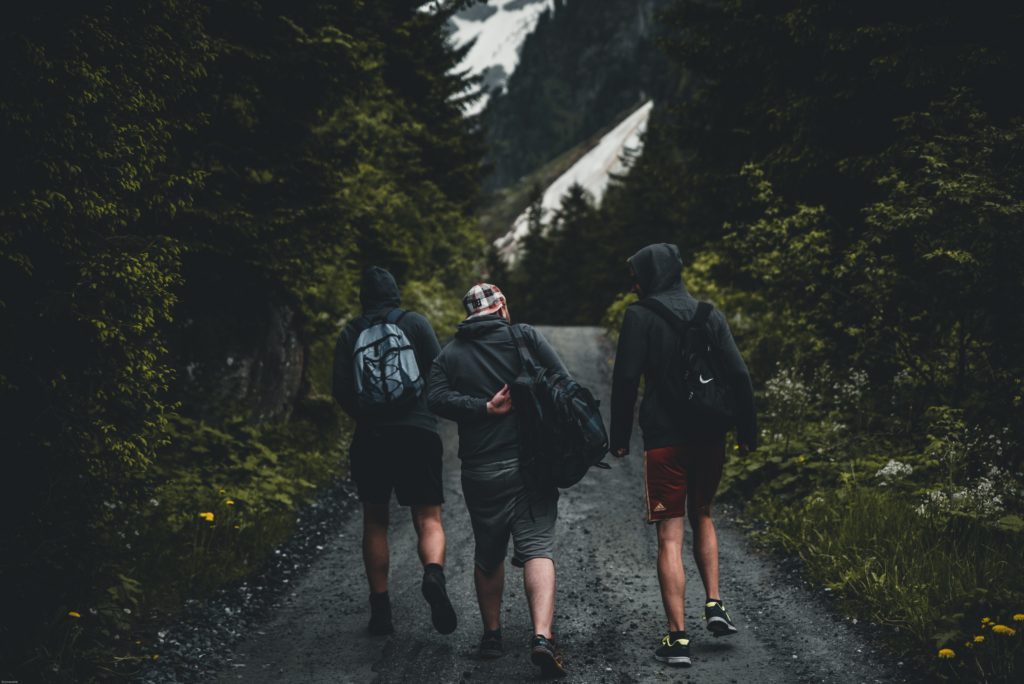 For beginners, I would strongly suggest finding yourself a hiking partner.
If you know any friends or family who hike, they would be a good choice.
Hikers are usually keen to introduce their beloved hobby to others.
They could teach you invaluable skills and share their experience with you. 
If you don't know anyone who hikes, you can try joining a local hiking club.
Alternatively, there are online groups, such as Meetup.com or Yonder, where you can find fellow outdoor enthusiasts.
Ultimately, I would strongly advocate for finding yourself a partner.
You are new to hiking and it would be extremely beneficial to have someone with you.
If anything goes wrong during a hike, you'd have someone who could help.
And if everything goes smoothly, you'll have someone to talk to and enjoy the outdoors with. 
If you truly wish to hike alone, I would suggest that you begin with easy and popular hikes.
This would ensure that you wouldn't be all alone on a route.
If anything bad does happen, there may be other hikers there for help.
You should also keep family or friends informed about where you'll be.
Let them know that you'll check in when you're back and if you don't, they'll know to alert authorities.
At the end of the day, we just want everyone to be safe. 
Conclusion
Hiking is truly a great activity to get into.
I hope that this guide helps you in beginning your hiking journey.
Happy hiking!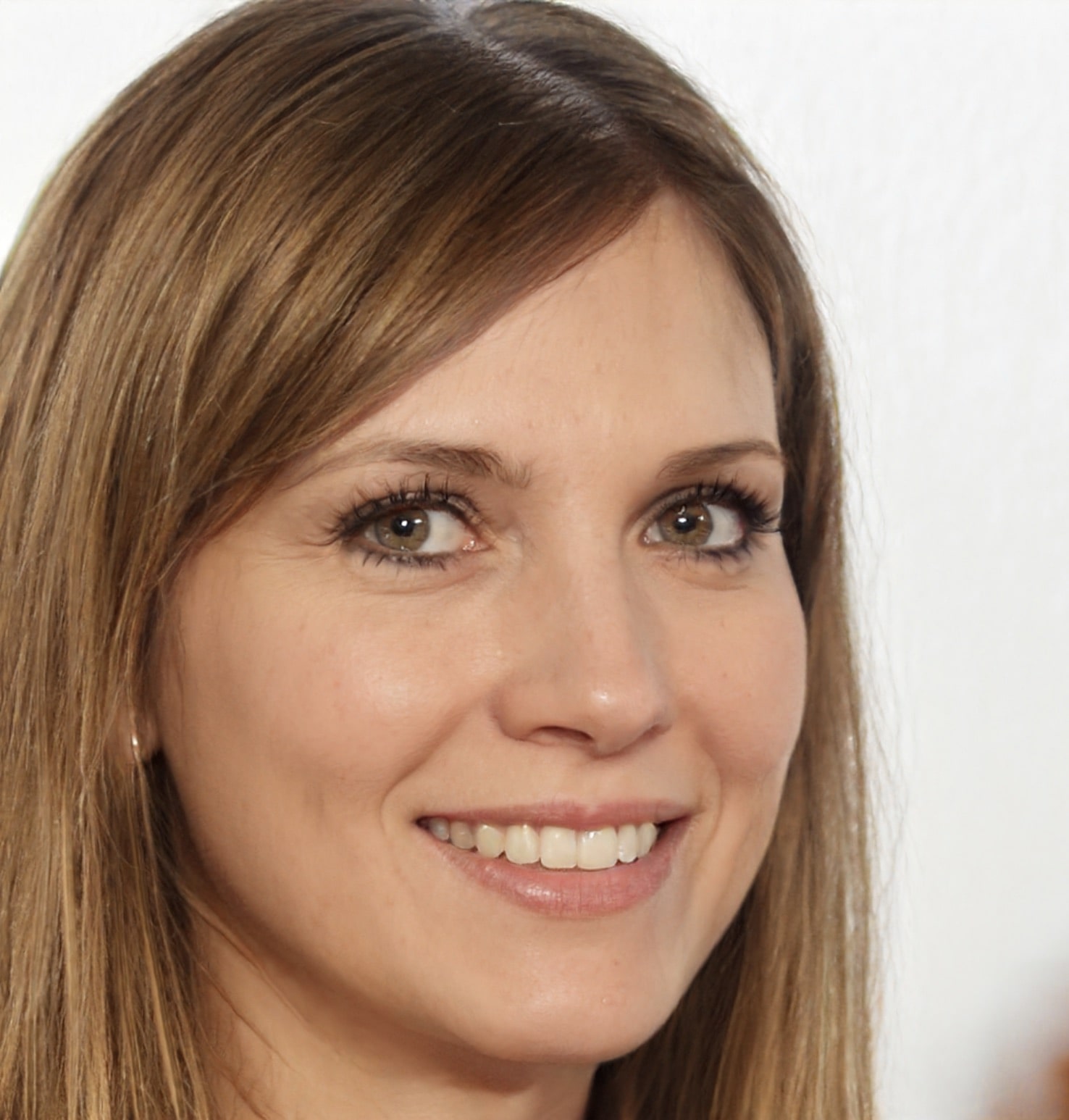 Hi, I am Amy I have two loves in my life camping and writing. When I am not writing for The Expert Camper, I am usually camping. Lake District is one of my favourite spots, but really anywhere in the UK under canvas I am happy.