Introduction
The tent is a quintessential modern invention: it is so widely used that nobody thinks much about how it is designed, or how it achieved its iconic form. Many campers have used the classic version, which has a pair of doors for each side of the front, without questioning the efficacy of this seemingly natural design point.
But tents are not as simple as appearances may suggest. In order to fully understand why tents have been made this way, we must first take a trip into history and into the wonderful, strange world of tentage. 
Understanding the Tent
Tents have surely been used since the very dawn of humanity, although we have no historical records to prove it.
This is because their essential function has remained essentially the same from the days when humanity was still limited to hunting and gathering — to keep people safe from the elements while retaining the flexibility necessary to pack up on a moment's notice.
Hence, tents have been recorded in many of the nomadic cultures of the world. While tents have fallen out of fashion, many backpackers still see them as essential.
The basic structure of a tent consists of two parts: cloth made of a strong and hardy material like nylon and polyester, or cotton and canvas for traditional tents.
These cloth pieces shelter users from cold, heat, wind, snow and rain if they are given solid grounding through the use of tent poles or pegs. Attached to the right piece of ground (or sand), they can give the fabric surface tension to prevent water from pooling in the recesses of the cloth.
Finally, the doors of the tent allow for entry to and from tents. Better-quality tents tend to allow for multiple seals to prevent mosquitoes and insects from entering the tent, as well as preventing unwanted moisture from collecting within the tent itself.
Different types of tents play around with a variety of structures to achieve different ends, and this also affects their door usage. For instance, take the humble dome tent; it is by some accounts the most widely-used variant of tent used globally, being easy to set up and tear down.
Its trademark dome is achieved through the use of two poles that meet in the centre structure, bending down to reach the edges of the structure and meet the ground. It has a high centre point, meaning people inside it have room to stand up and even hang lights from the interior.
However, it is also easy to catch wind and cannot be scaled up beyond a certain point.
A-Frames are another simple and widely-used tent design — however, they have become increasingly rare with time.
This is because they are surprisingly bulky, due to their trademark poles that preserve the twin "peaks" of the A-Frame. These poles usually have ropes attached at the top, which are tied to specific corners of the fabric and hammered into the ground.
The wedge structure is completed with a support that is attached between the two poles, giving the shape more structural tension.
However, these types of tents tend to emphasise the ease of set-up and stability of structure above cost or headroom, making them more cramped compared to their dome counterparts.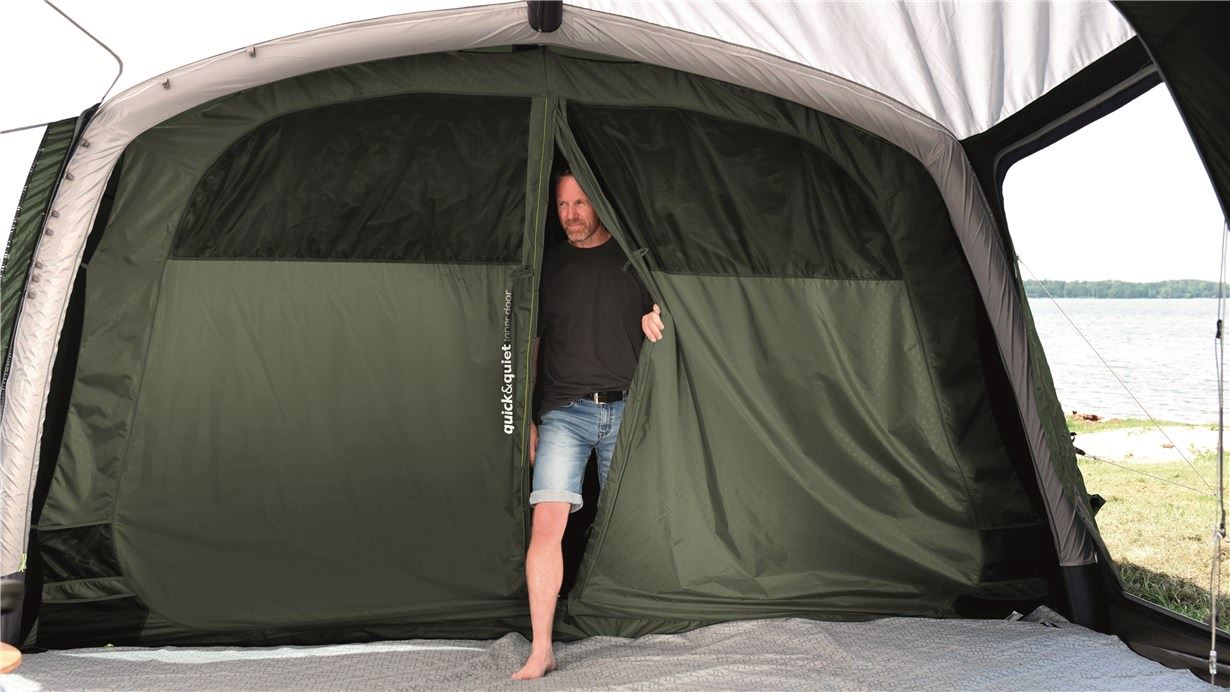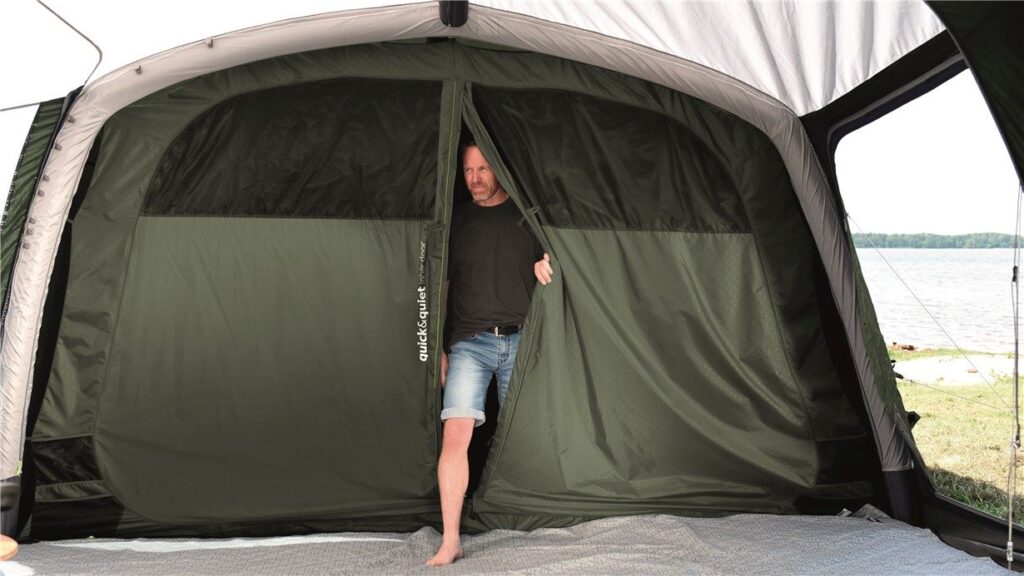 Hence, the doors of dome tents tend to be more limited to simple flaps that allow for easy entry and exit. These doors sometimes have impromptu mudrooms to allow people to dry their gear or leave their dirty equipment outside the tent itself. These tents are also usually limited to a single door because the design is so simple and minimalistic. In addition, their ubiquity means that campers using them usually have other competing considerations for their cost and time, making multiple doors less of a priority. That said, more complicated and modern tent designs will usually have multiple doors. For instance, the use of multi-room tents has become increasingly common. These tents' main selling points are their room for extra equipment and added privacy through added dividers. These will generally have multiple doors for entry and exit, allowing for additional layers of insulation that more standard tents will not provide. 
Backpacking and Geodesic tents are also more likely to come with multiple tent doors. These tents are designed for specific purposes — for backpacking tents, lightness and portability are key, and durability at high elements and wind speeds is a necessity. For geodesic tents, the use of multiple tent poles to provide maximum stability is key to surviving the deeply hostile conditions they are used in. However, in both these cases, they rely on multiple doors to fulfil these functions. Backpacking tents have wide-open doors sealed with mosquito nets and zips, but they also allow wind to pass through the tent without destabilising it. Geodesic domes have multiple flaps to preserve the symmetry of the structure.
The Virtues of Multiple Doors
Tents ultimately rely on a few things to keep their inner conditions bearable. The first is adequate airing — the ability to keep air flowing through the tent even in the peak of summer can mean the difference between a stiflingly hot night and a bearable one. Hence, double door tents are usually favoured for trips in warm conditions. In addition, tents with 2 doors are likely to be more comfortable and more favoured for complex equipment: anyone who's tried storing their camping bags, cameras and water filtration equipment in the same cramped space will understand the utility of a separate door to keep their equipment away from human clumsiness.
That said, the cost of such models also acts as an inhibitor. Single door tents may be more cramped, less ventilated and more vulnerable to condensation. However, they are also cheaper to carry around and less difficult to repair due to their simplicity. We recommend those who are looking to buy multiple tents consider the utility of a single large tent with dividers, but it is also acceptable to simply carry multiple simple tents to make setup less complicated.
Conclusion
Ultimately, the choice of tent door design is dependent on you, the customer. We hope this guide has managed to address your concerns regarding tent door designs, and wish you luck on your own camping journey.