What's in the mail?
Looks like it's your new tent!
Taking out the bits and pieces from its packaging can make it seem like it is a very complicated task to complete, especially if you are new to it.
You'll be relieved to know that assembling a tent is quite easy and won't take up too much time either.
It is not so daunting after all! You just have to identify the steps required and do so in that order.
We have put together a comprehensive guide on how to set up any tent — by the end of it, you definitely will be setting tents up confidently for any camping trip; even one that involves mountain hiking for beginners in the uk.
Let's begin with a quick overview of the four steps needed:
Find a suitable area

Choose an area that is of levelled ground and clear of debris





Unpack & stake

Layout the tent, poles, stakes, your mallet, and stake down the base





Set up the spine

Link up all the poles and connect it through the tent to create its standing structure





Accessorise

Connect any tent accessories you might have during this last step.
Prior to making your way to your designated campsite, it is highly advised that you double-check your equipment and tent pack, to make sure you have all the essential pieces to assemble your tent.
Count that you have all the poles needed and that the tent is not damaged. It would be devastating to reach the site and realize you have a piece missing — it literally makes or breaks the shelter you need for the night. 
Other than that, you would also need these additional tools: a mallet and a couple of stakes.
These tools would help to nail your tent firmly on the ground and help keep it erect. A mallet would ease the process and help you quickly set up the tent in no time. 
Now let's dive into a more detailed method on how to assemble and set up your tent.
This could slightly differ for different types of tents — but you can definitely adapt our guide to suit your needs as these tips are often used for most models of tents.
Step 1 — Find A Suitable Area
It is important to choose a surface that is leveled and is vacant to set up your tent on — meaning there shouldn't be rocks, branches, protruding roots.
This would minimize damage to the tent and also provide more comfort for when you need to rest. 
Additionally, you have to be strategic about where you set up the entrance to your tent — having it face the campfire would only smoke up your shelter.
Hence, try to keep it away from where you would start your fire.
If you have no choice but to set up near the fire, try to at least keep any openings facing away from it. This additionally reduces fire hazards as well.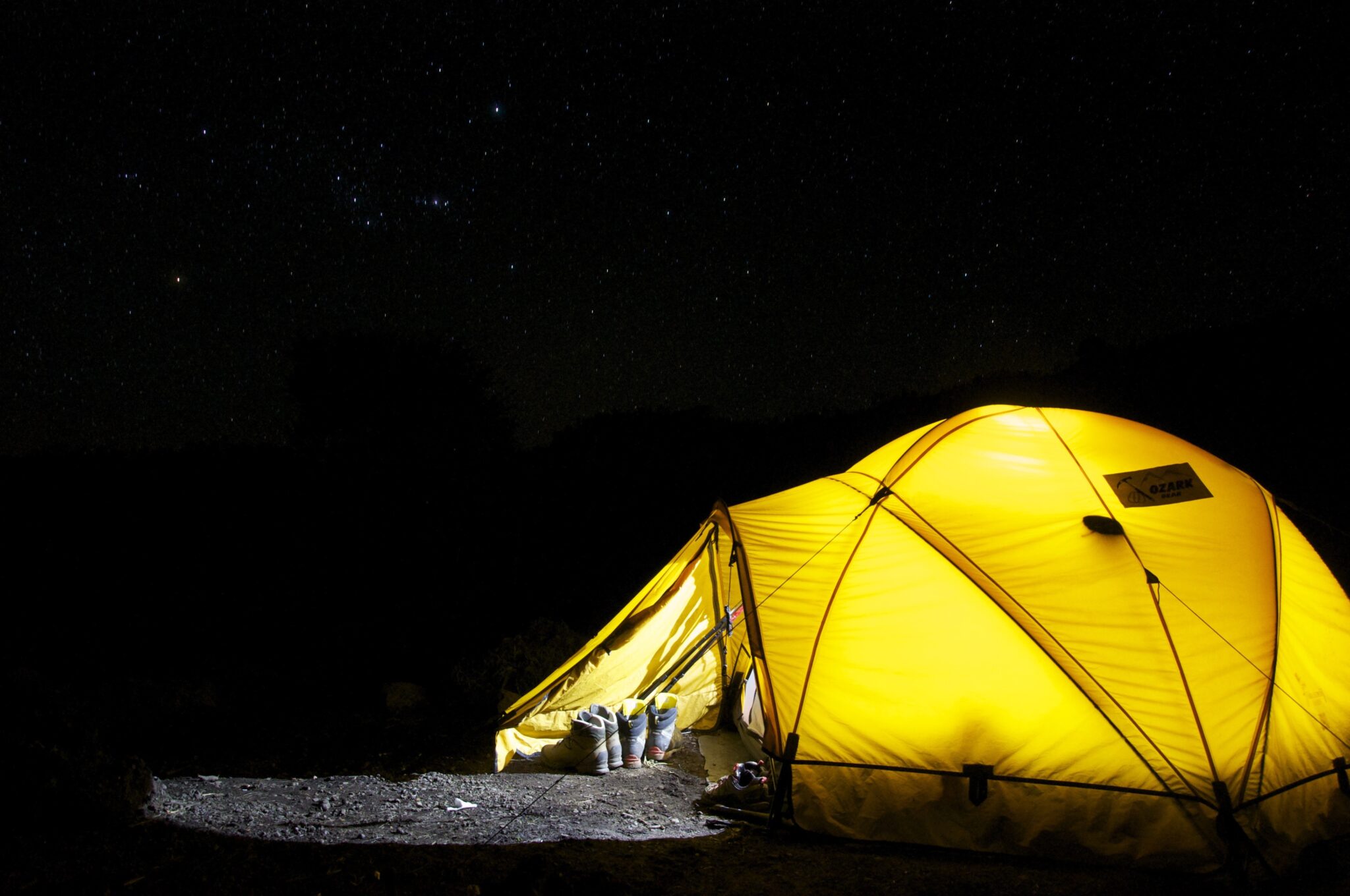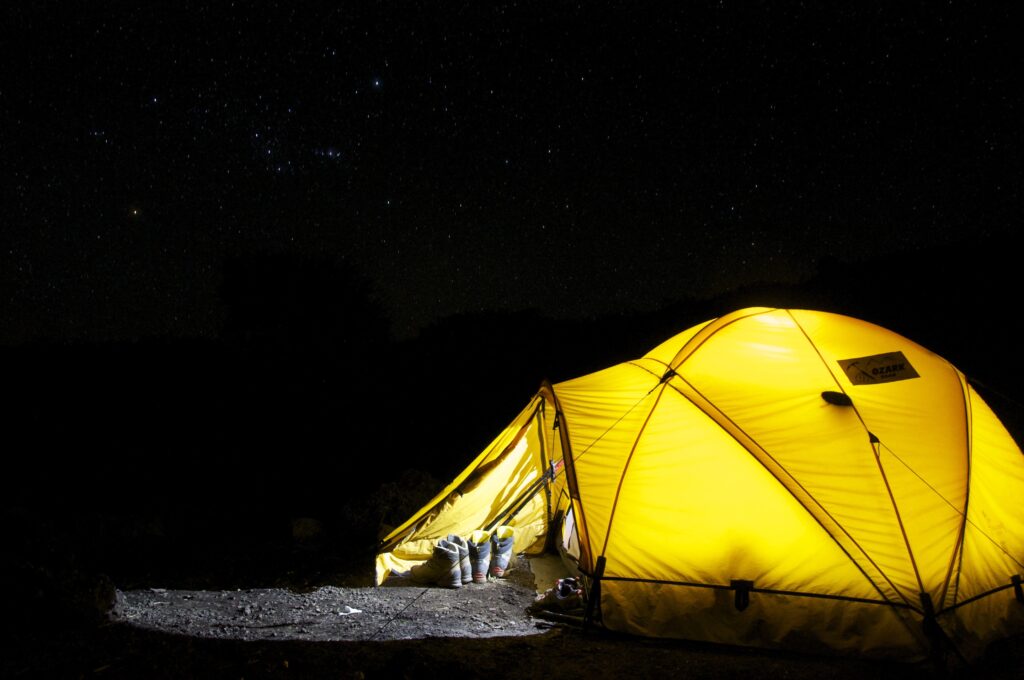 The next step you would have to do is disassemble your tent bag and layout all of the pieces nearby. Spread the tent body on the area you have demarcated previously and search for the stake holes attached to it.
Firstly, try to manually push the stakes down into the ground using either your hands or by stepping on it.
If the ground proves to be stubborn and firm, use the handy mallet you've packed to hammer it down. This would prevent it from sliding around especially if it is windy. 
While using the stakes, it is important to note that it should be hammered into the ground vertically.
Many have made the mistake of driving it into the ground slanted, which will compromise its integrity and strength.
To add, do not drive the entire stake into the ground. Leave about an inch exposed to allow for cords to be tied around it.
There are different types of stakes for different surfaces as well — for instance if you plan to camp on the beach, use sand anchors.
It is highly recommended to bring extra stakes to every camping trip in case you lose them, or break it. 
Step 3 — Set Up The Spine
Usually, you would either have to screw two poles together or connect them through a shock cord.
Depending on your model of the tent, make sure you follow the right procedure on assembling the poles as they make up the "spine" of the tent structure.
If you have lost the instruction manual, most tent bags usually have instructions sewn into them. 
Now that you have your "spines", you should now attach it to the rest of the body.
Again, depending on your tent's model, you would have to locate either the sleeves or hooks to insert the poles into.
In the usual tent models with triangular-dome shape, the poles should form a cross in the middle. 
The next thing you have to do is put the poles into the corners of the tent's base. You should start seeing the typical standing structure of a tent by now. 
Whatever accessory you have for your tent, it is best to put it up last. 
A common accessory is the rainfly. If your tent has a rainfly, it is often set on the top of the tent and tied to the stakes on the sides.
A rainfly functions to keep the interior of the tent dry when it rains.
Other accessories include lantern hooks or mesh gear lofts, in case you are interested in leveling up your tent for your trip.
Hopefully, these steps will help you set up a fully functional tent that can brave any type of camping trip.
You will definitely get the hang of setting up a tent after doing so a couple of times. Soon, you'll be the one teaching others how to set up their tents.
Should you ever run into issues setting up your tent, it would be best to refer to your tent's instruction manual. Have a great camp!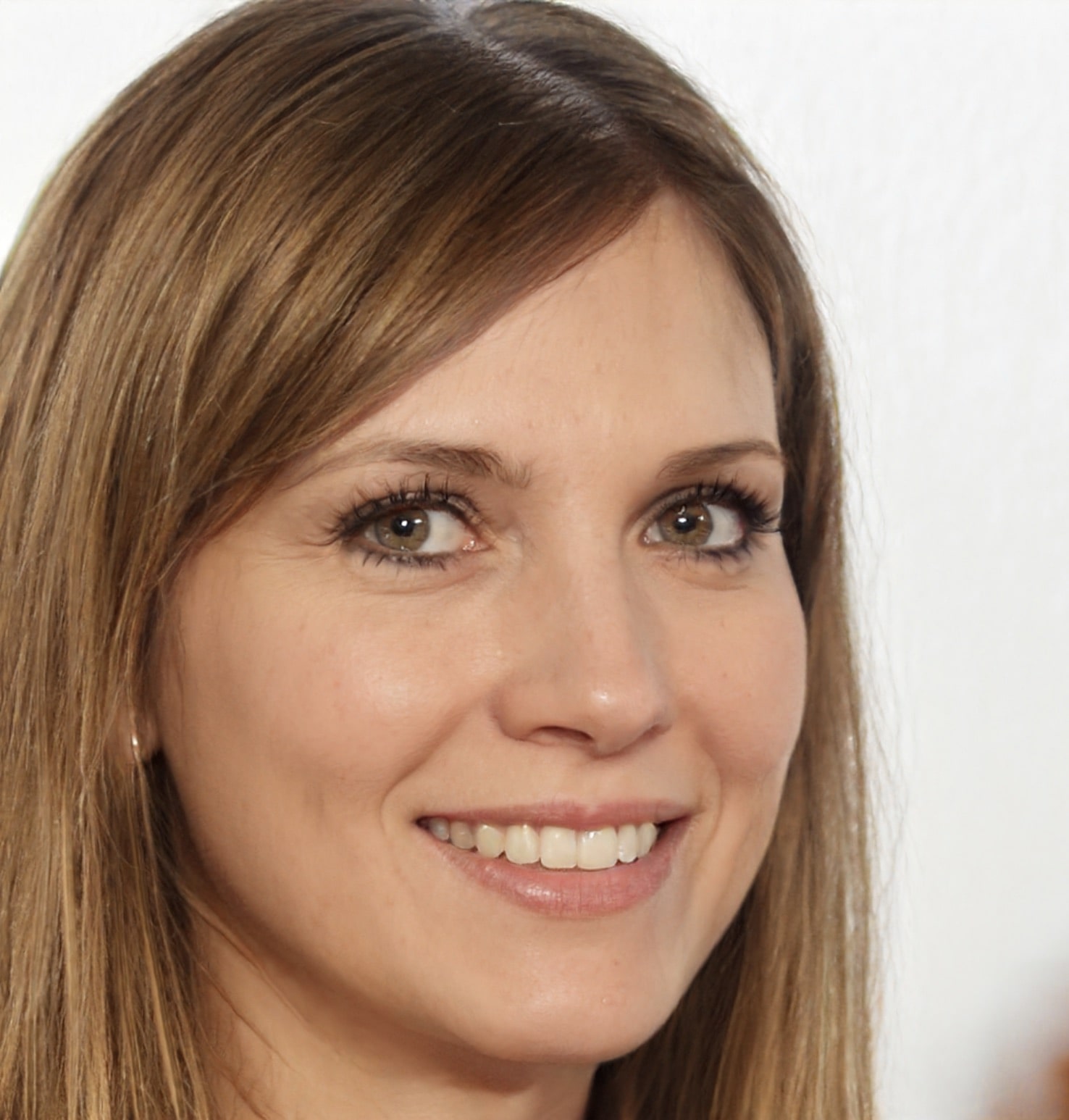 Hi, I am Amy I have two loves in my life camping and writing. When I am not writing for The Expert Camper, I am usually camping. Lake District is one of my favourite spots, but really anywhere in the UK under canvas I am happy.