If you are camping in the Lake District, don't forget to check out the variety of cafés that the area has to offer.
While it is great to spend time in the great outdoors, nothing beats the comfort of indulging in a nice cup of tea and fresh bread down the street.
Not only is the Lake District home to beautiful lakes and mountain ranges, but it is also famous for housing some of the cosiest pubs and cafés along its streets.
Whether you are interested in a hearty meal for a couple of hours or a quick-stop during a morning hike, remember to check our café recommendations out.
Helvellyn Country Kitchen
Near Ullswater and Helvellyn (the third highest mountain in the region) lies a humble café called the Helvellyn Country Kitchen.
Enjoy a hot meal of locally sourced ingredients and cuisine while basking in the morning sunshine.
For those who are hiking, head down over for a good energizing breakfast before heading up Glenridding. For those who are returning, the Helvellyn Country Kitchen offers its comfortable seats for a short rest and food stop-over.
The owners of the café, Jason and Michelle, also serve a light morning menu comprising soups and salads.
For those who want something a little heavier, feel free to indulge in the jacket potatoes and tuna mayo.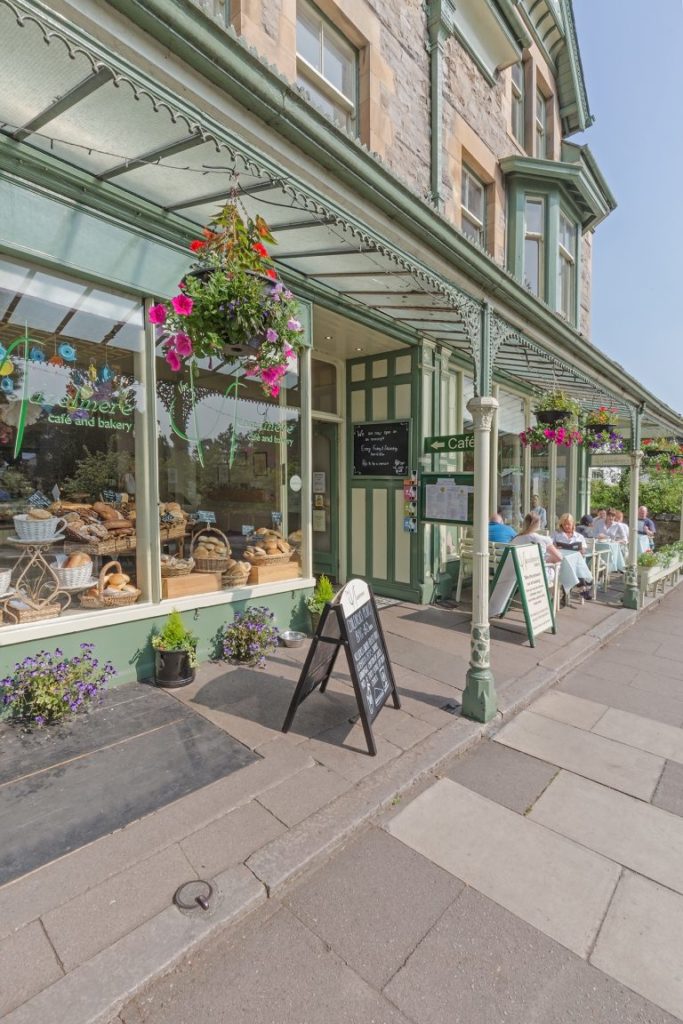 Located in Grange-over-Sands is one of the most community supportive and driven cafés called The Hazelmere Café.
Not only does it serve delicious food, but the shop also leverages local suppliers and regularly donates bread to homeless children from the Manna House.
With a spectacular view from Arnside to Lakeland fells, spend the evening indulging in this charitable place with their luxury muesli and comforting loaves.
Everything is baked in-house and brewed nicely to everyone's liking.
If you're a fan of seafood then also don't forget to order their Morecambe Bay shrimps.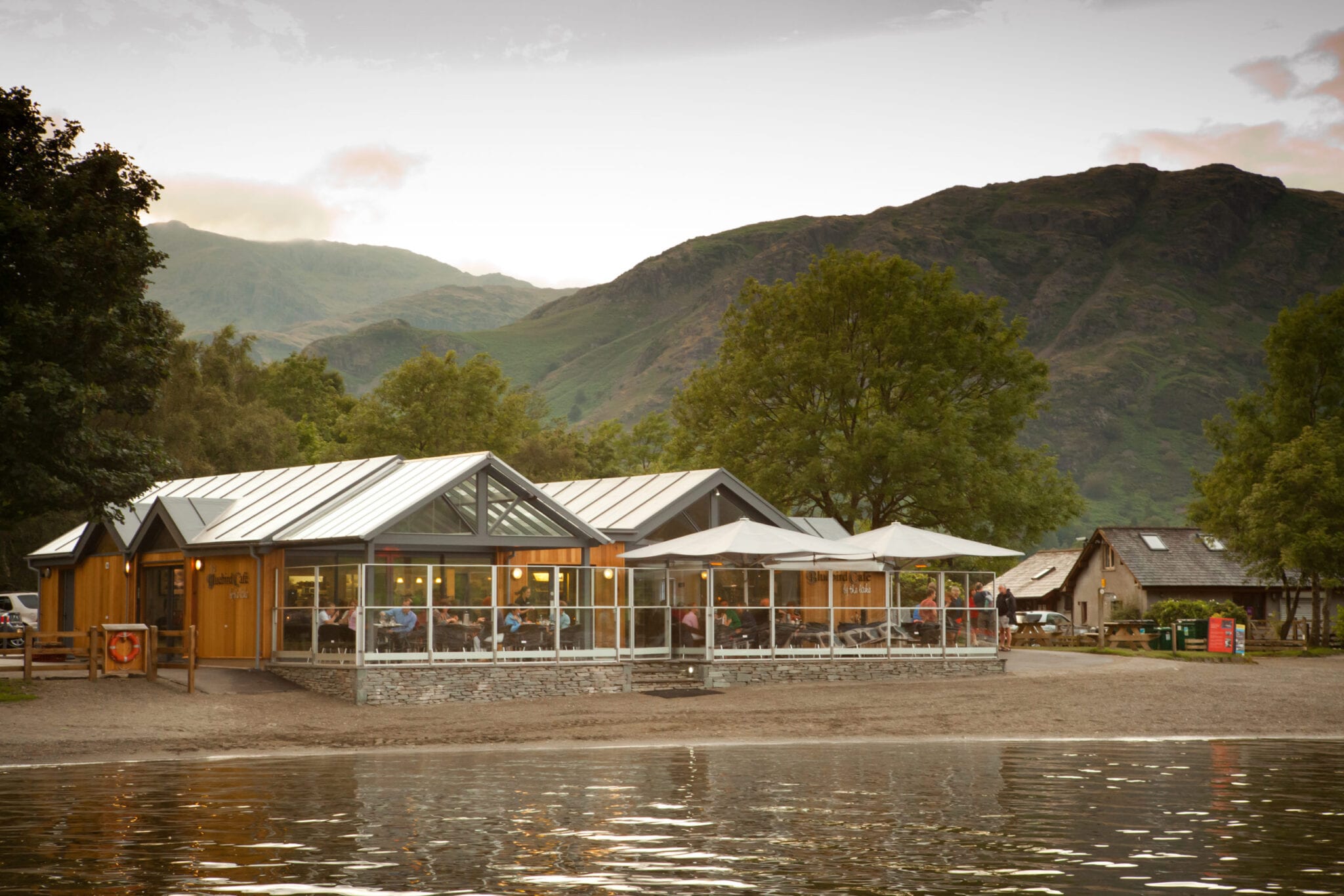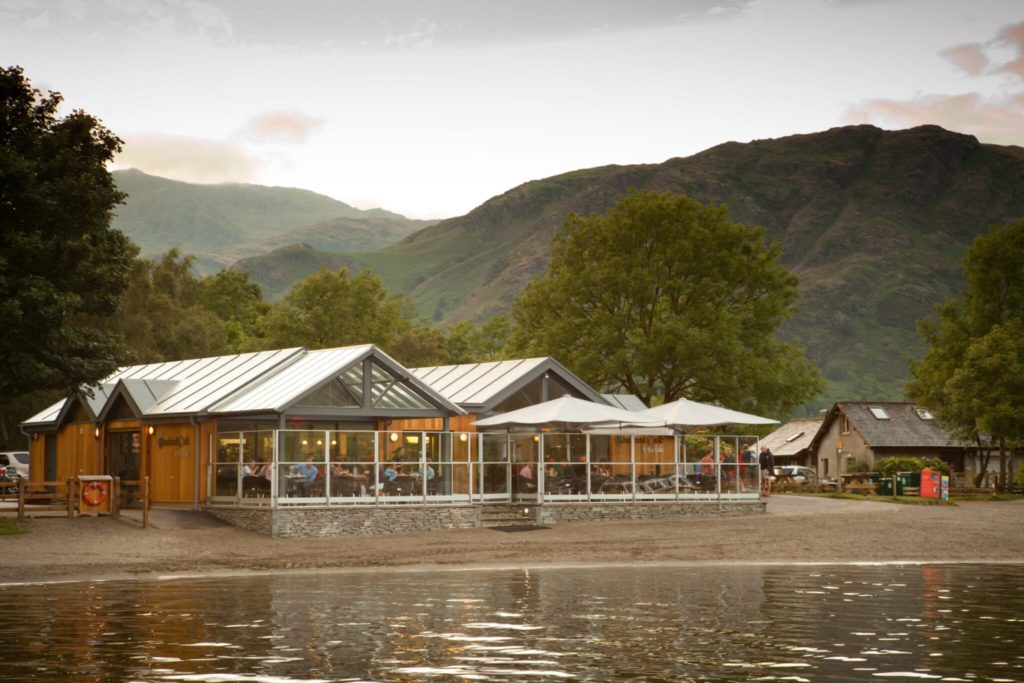 With the view of the Coniston village and lake, spend the evening with a nice cup of tea while basking in the warmth of the morning sun.
There is nothing more satisfying than taking a break from your walk or hike to settle for a quick home-made cake or burger.
The Bluebird Café also offers other options such as ginger and lemon drizzle.
Not to mention, it is conveniently located near hiking trails around Buck Pike and Dow Crag.
If you fancy another similar café, their sister branch called Bowness is also located nearby on Windermere.
The Café In The Courtyard
However, that is not the only café we recommend around Windermere.
Also, make sure to stop at the Café in the Courtyard if you are around the area.
We guarantee that you won't want to miss their locally obtained meat and cheese, as well as enjoy a cup of their specially brewed coffee.
From Altham to the Cockermouth region, every ingredient is freshly and locally obtained for you to enjoy.
One of our favourites from the Café in the Courtyard includes their Ferryman's lunch, which is made up of a pork pie or vegetarian quiché (depending on your preferences).
The meal is then loaded up with local cheese, bread and other yummy ingredients.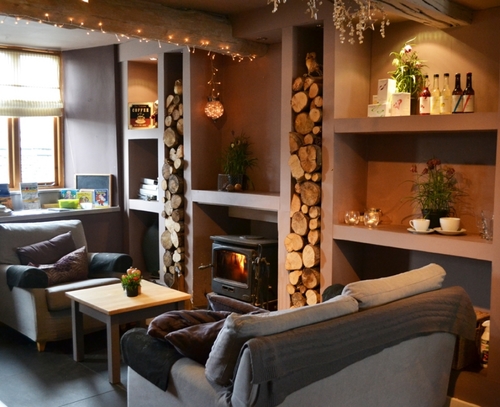 For those who are fond of fresh loaves of bread then the Broughton Village Bakery is just the place for you.
If you find yourself hiking through Broughton's old railway line to the Woodland Valley, make sure to stop by the bakery for quick rest and meal.
They offer a wide range of delicacies such as home-made pies and fruit smoothies.
Did you know that the Broughton Village Bakery emerged as a finalist on the television show called 'Britain's Best Bakery'?
Its title is not for nothing as the place is famous for being a part of Lake Districts top bakeries and is even recommended by the Gourmet Britain since the 1930s.
Not only does it boast of rich history and is a well-known tourist site, but it also serves good food that matches its reputation.
Find yourself relaxing in its compounds with freshly brewed organic beans, special Procters Cheeses and free-range eggs.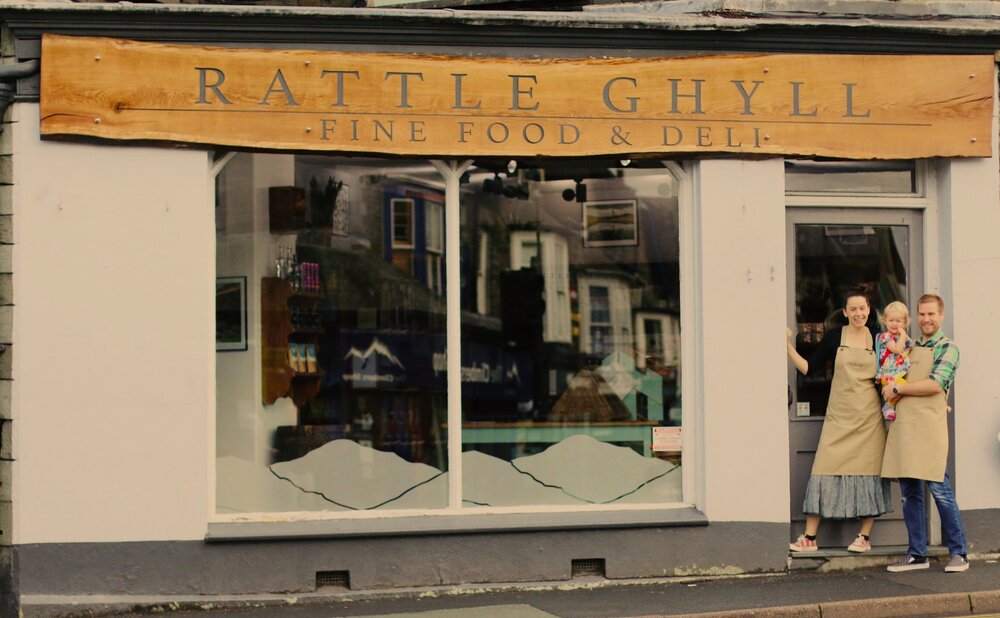 If you are located in the heart of the Lake District and fancy a lovely café for your rest-stop, head down to the top of Lake Windermere in a town called Ambleside.
The Rattle Ghyll promises a heavenly getaway for hikers and cyclists alike, who stop by along their long journeys and adventures for a nourishing meal.
Not only is the area incredibly scenic with grand views of the Loughrigg Terrace and Rydal Cave, but one can also choose to stroll through the quaint town of Ambleside for a taste of local culture.
The Rattle Ghyll serves their meals in charming buddha bowls and one can get a wide range of cuisines from spicy meals to cheese scones.
Don't forget to check out the local artwork displayed on their walls as well as the Rattle Ghyll makes an effort to showcase and support local artists around the area.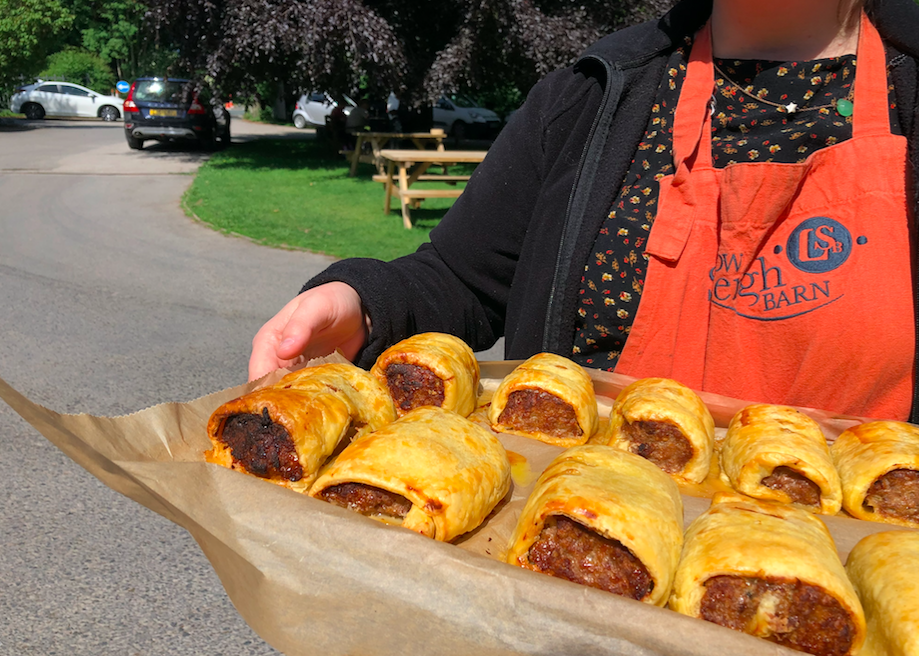 Located along the outskirts of Kendal lies the perfect family café called the Low Sizergh Barn.
We recommend taking the two-hour-long trial along the Sizergh Castle wildlife trial before heading down to this café as it is en-route.
Not only will you get to clock in some exercise, but you will also get the opportunity in the delicious food that the Low Sizergh Barn has to offer.
Settle down with a full English breakfast course or indulge in some afternoon tea during your hiking breaks.
If you happen to stumble across the barn at the optimal time of 3:30 pm, the Low Sizergh Barn provides a cow milking observation session through their gallery windows as well. 
They have recently added a caravan and camping site to the farm, so why not spend a night or two at this perfect spot.
Heidi's Grasmere Lodge And Café
If you are up for something more adventurous, head down Helm Crag for a short but steep walk along the Lakeland views.
After you are done, we recommend heading down to Heidi's Grasmere Lodge and Café for a satisfying bite.
Not only is the place pet-friendly, but it also offers a wide menu for breakfast, lunch and even desserts.
All food is cooked on the spot upon ordering, and they also carry specials depending on the season.
Once you are done, the nearby Lake Grasmere beckons visitors with a lovely stroll along its beautiful waters. 
Even if you are planning on visiting a cafe, as the boy scouts say its always good to be prepared, so check out the list of food you need to take when hiking.
Whether you are hiking or just looking for a nice café to stop by, there is no denying that Lake Distract has some of the most beautiful and unforgettable cafés in the region.
From small and cosy cafés to more well-known outlets, there is a wide range to choose from and certainly food to satisfy everyone's taste. 
Heading to The Lake District
Check out these other great articles about the Lake District, from places to stay to places to visit.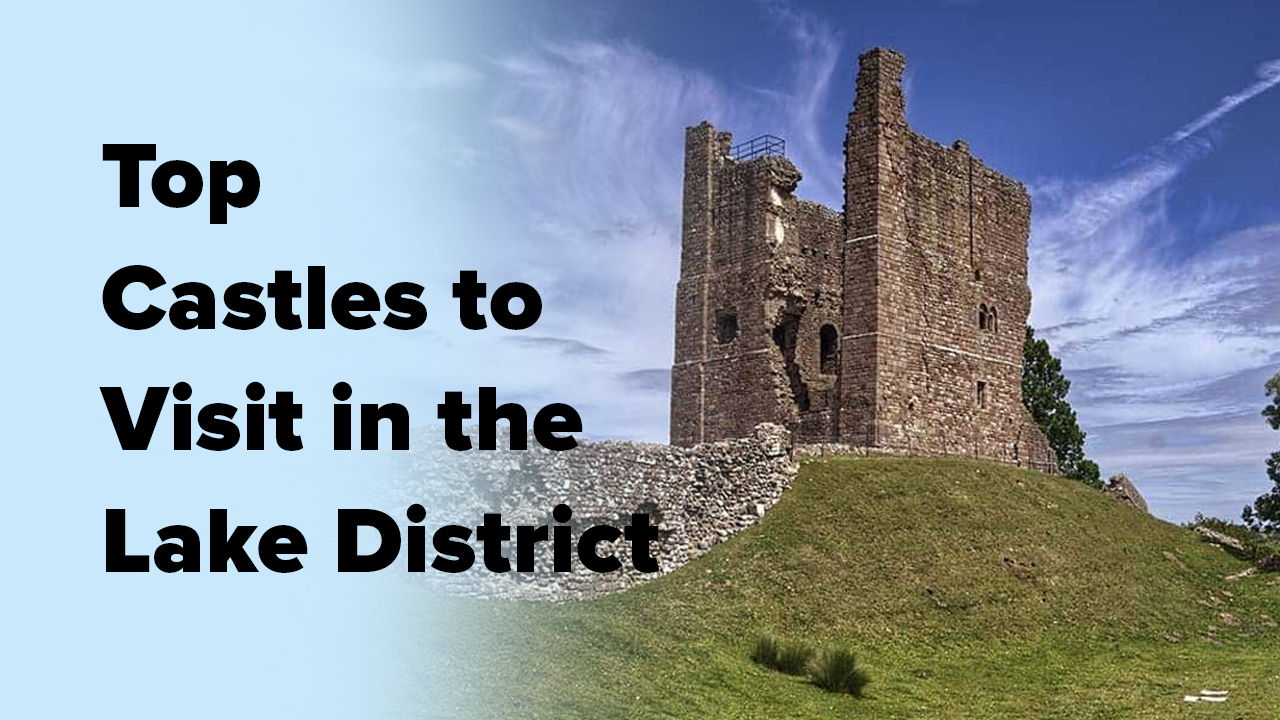 The Lake District is a wonderful place, full of history, beauty, and excitement. It truly has something special for everyone. For nature lovers, the beauty ...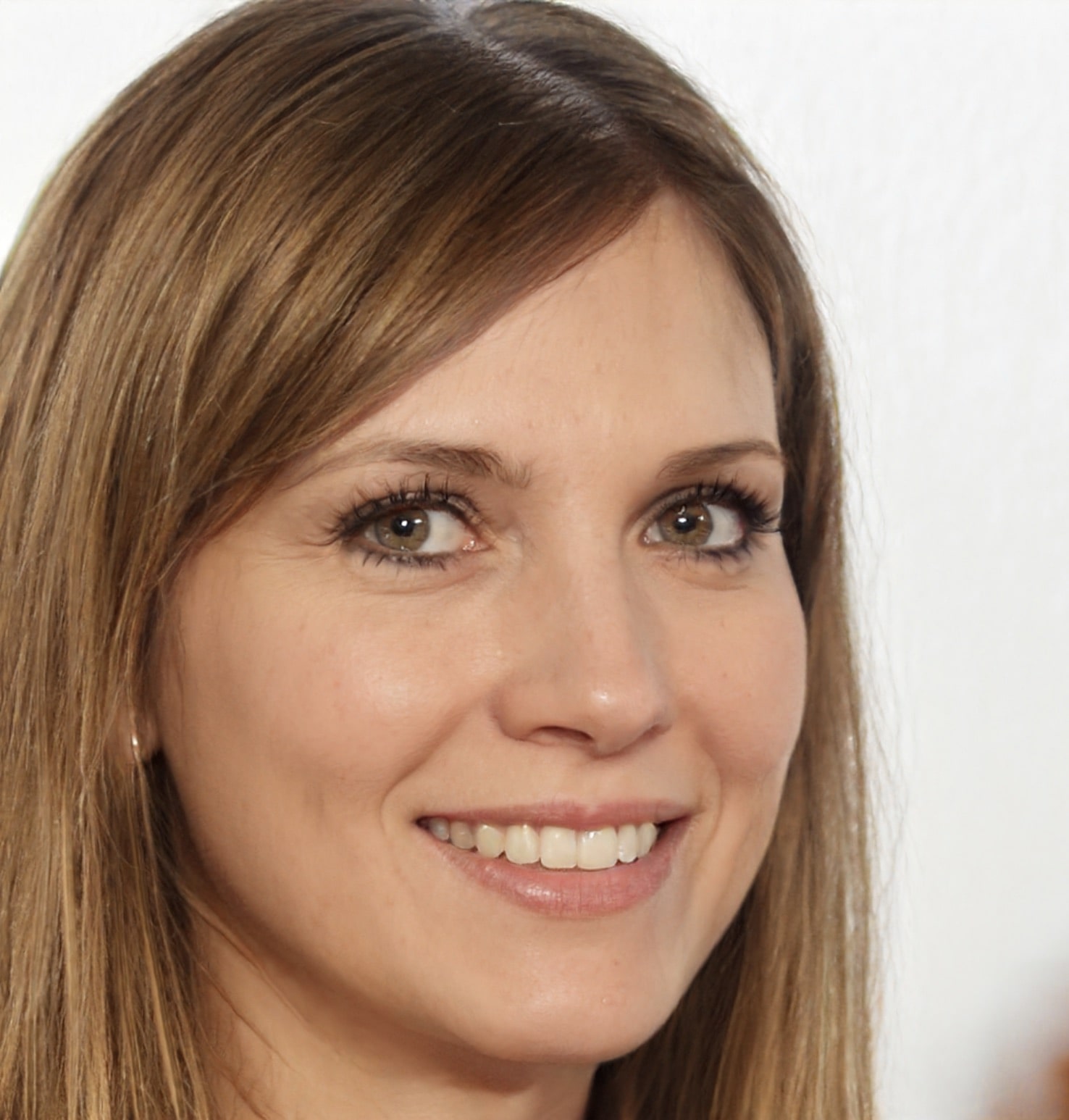 Hi, I am Amy I have two loves in my life camping and writing. When I am not writing for The Expert Camper, I am usually camping. Lake District is one of my favourite spots, but really anywhere in the UK under canvas I am happy.